Absenteeism: GMC Anantnag Doctors, Private Nursing homes warned for Private Practice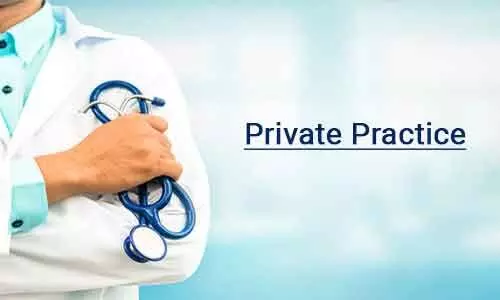 Anantnag: Finding almost 22 doctors absent during office hours, the Government authorities have warned the Nursing-home owners in the South Kashmir district from allowing doctors employed at the Government facility to engage in private practice during office hours.

Issuing a warning to both Private nursing home owners and the absent doctors, the Principal GMC Prof (Dr.) Shaukat A Jeelani wrote a letter to the owners of the nursing home underlining the fact that private practice of doctors, paramedical staff employed at government service is an offense and cannot be permitted under any circumstances.
"In this regard, it is requested to kindly ensure that no doctor/paramedical staff employed in Government Medical College Anantnag is allowed to practice in your nursing home during office hours," reads the letter as reported by GNS.
"Any such case when brought into (my) notice will be dealt as per law and will also invite action as per rules against the offending medical personnel of this college and your nursing home," the letter added.
Also Read: No Absenteeism amid Coronavirus outbreak: Bihar Govt serves ultimatum to 28 medical faculty, resident doctors

As per the recent media report by GNS Kashmir, this move comes after a surprise visit to the hospital by a team of officials including Additional Deputy Commissioner, Tehsildar Anantnag, and Medical Superintendent GMC Anantnag. They found almost 22 doctors absent from their duties during their inspection. In fact, it was found that the department of ophthalmology at GMC Anantnag, a healthcare facility of prime importance in south Kashmir, was closed.

Afterwards, an attendance report was given to the Deputy Commissioner of Anantnag, who forwarded it to the Chief Secretary.
Previously, taking note of the problems of absenteeism at the Government medical college, the Deputy Commissioner of Anantnag had directed the Principal of the college to monitor the attendance at the Government facility and assign the duties to the doctors and paramedical staff accordingly.
The principal had been further directed to take note of the punctuality and ensure that the staff was following the roster in the true sense. In fact, he was also asked to update the Deputy Commissioner daily regarding the attendance issue, adds the daily.
Also Read: AIIMS Patna doctor served show-cause notice for private practice, doctor denies allegation
Source : with inputs