Kin Attacks RIMS medicos after patient's death; Junior Doctors threaten strike, demand security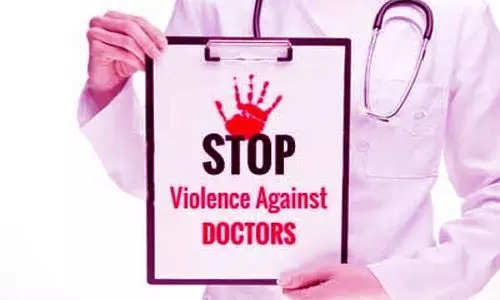 Jharkhand: Taking cognizance of the increasing number of cases of violence against the doctor, the Junior Doctor Association of Rajendra Institute of Medical Sciences (RIMS) has urged the Dean of the institution to provide necessary security to the medical staff in the hospital premises.
The association has threatened to go on a strike if their demands are not fulfilled. This came after a patient who was receiving treatment in the institution passed away and the kin of the patient allegedly attacked three female junior doctors on duty on late Monday night alleging medical negligence.

According to a recent media report, the hospital reported that the patient was a resident of Dhanbad and was receiving treatment for around a week in the facility as he was suffering from chronic kidney and heart problems. The Specialists from the cardiology and nephrology department attended him and provided him necessary consultation. However, his condition declined and he passed away. When the kin of the patient was informed, they alleged medical negligence on the doctors and resorted to violence. They allegedly assaulted and attacked the three female doctors on duty.

Dr. Anitesh Gupta of JDA told
Times of India
that " the patient was already admitted with serious kidney and heart complications and he died of natural causes during treatment. No one can be blamed for this. But the manner in which the patient's kin attacked 3 female doctors on duty is totally unacceptable and we have submitted a written complaint to Bariatu police station and have demanded immediate arrest of culprits."
According to the daily, after the incident, the very next day one of the representatives of the Junior Doctors Association approached the Dean with their demands and urged the authorities to provide necessary security for the medical staff at hospital premises all the time. They have also stated that they will go on a strike if their demands are not fulfilled. The junior doctors have also stated that they are thinking of not reporting to OPD duty until their security is assured by the authorities.
However, the kin of the patient denied the allegations and stated that they had never mistreated the doctors but the patient did pass away due to the sheer negligence and inefficiency of the medical facility. They also alleged that the doctors deliberately kept the body till Tuesday afternoon in order to harass them. One of the family members of the dead patient told Times of India, " we did not misbehave with any female doctor, only a few ladies from our side had tried to confront the female doctors as they had not taken proper care. In fact, the doctors threatened us that they will ensure that the dead body is not released." Bariatu police station in-charge, Sapan Mahatha stated that no case has been registered yet and they are still investigating the matter to confirm the allegations of both sides.
Source : with inputs