Supporters of Jharkhand Health Minister block road, patient dies in trapped ambulance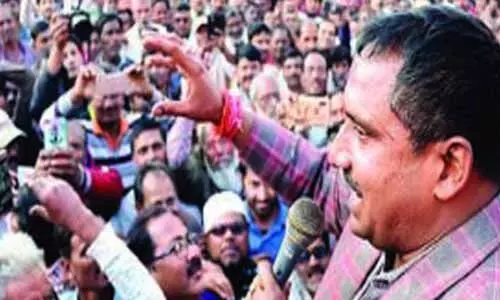 Jamshedpur- Stuck for more than an hour in a road block created by the supporters of Health Minister Banna Gupta, a seriously injured youth died in ambulance at Maango Chowk here while being taken to hospital.
Gupta's supporters were celebrating his inclusion as a minister for the first time on his arrival in the city. They stopped traffic movement and burst crackers, leading to a massive jam at Maango Chowk in which couple of ambulances were also trapped.
The driver of the ambulance carrying the seriously injured youth, said he was taking him to a private nursing home from MGM Hospital, but the vehicle got trapped in the jam due to the road block.
Despite his repeated requests, the traffic police personnel and the supporters of the minister did not pay heed. The jam was cleared only after 90 minutes, but by the time he reached the hospital, the youth had died.
Following the incident, the state BJP accused the Health Minister of being directly responsible for the death.
State BJP spokesperson Pratul Shahdeo demanded the Chief Minister to take action against the Health Minister and register a case under section 302 of the IPC against those responsible for the act.
On the other hand, Chief Minister Hemant Soren, who is currently in Dumka, said he was not aware of the incident but assured to look into the matter and take action against the guilty.
Read Also: Negligence will not be tolerated: Jharkhand CM to all govt hospitals