MMCRI resident doctors go on strike over non-payment of salaries, cut in COVID allowance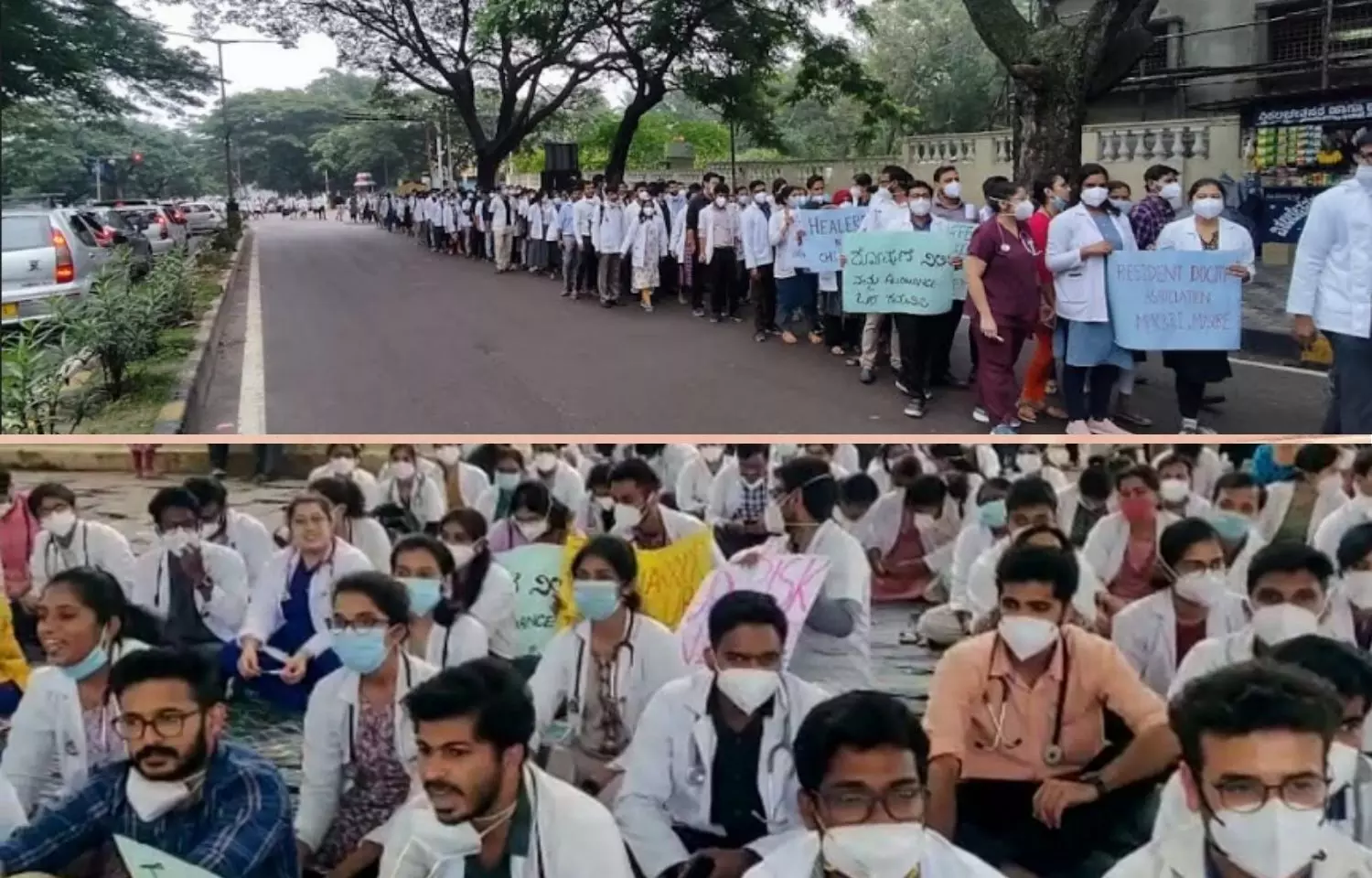 Mysore: The resident doctors of Mysore Medical College and Research Institute (MMCRI) have gone on an indefinite strike from Thursday demanding the immediate release of salaries and COVID allowances without any cut.

The Resident Doctors' Association (RDA) has threatened to further go on hunger strike if their demands are not fulfilled.

Dr Vijay Kumar, President of the Resident Doctors Association told Medical Dialogues that on May 5, 2021 the government announced to provide a sum of Rs 10,000 every month along with the stipend of Rs 50,000 to the resident doctors until the COVID-19 situation comes under control.
Resident Doctors (Post-Graduate students) stated that the Government was supposed to pay COVID allowance of Rs 60,000. Instead of paying the promised amount, the Government has paid only Rs 30,000. Also, the salaries for September have been paid two days back and Rs 15,000 has been deducted out of the actual salary (stipend) of Rs 50,000. Moreover, they have demanded the payment of Rs 5,000 stipend due for the month of July for second year PG medicos
" PG first years are supposed to receive Rs 45000 as stipend, second-year Rs 50000 and final year Rs 55000. They paid us properly without any deductions in June, July and August. September salary came two days back with a deduction of Rs 15,000 and we came to know that they will deduct Rs. 15,000 in October salary and we are not sure of when the October salary will come," Dr Vijay added.
The protesting doctors stated, " To our surprise, instead of giving the balance credit of Rs 30000 out of Rs 60000 as promised by the government, the attempt is made to recover the already paid allowance. The amount of Rs 15000 has already been deducted. This is considered an extreme disrespect to our dedicated services. It is requested that this is not be done. The SRs have played a major role in managing both the COVID situation and the departmental duties although not been paid the salary of SR grade since the month of May. The COVID allowance of 60000₹ as promised were not paid and the previously paid allowance ( Rs 30000) has been deducted similar to PGs. Over this 2 months of salary due for the SRs has to be provided. "
In a recent press release, RDA stated that their demands include payment of COVID allowance to SRs ( senior resident doctors), PGs, and interns and not recovering the allowance already paid, payment of stipend due till date for PGs and Interns in full, SRs to be paid salary which is due since 2 months and in par with SR-grade for 2021 batch and payment of Rs 5000 stipends due for the month of July for 2nd year PGs. The resident doctors have boycotted OPD and OTs as part of their protest at K.R. Hospital and the Cheluvamba Hospital, attached to the MMCRI. They are, however, carrying out emergency duties.
" The government is claiming they have released COVID allowances. Institute authorities on the other hand are deducting salaries. We don't know who id suppossed to be responsible; for paying us our stipend, salary and COVID allowance but we should get our right or we will go on hunger strike", said DR Vijay Kumar.