Patient allegedly tied to bed over non payment of bills: Hospital's registration suspended, sealed after video goes viral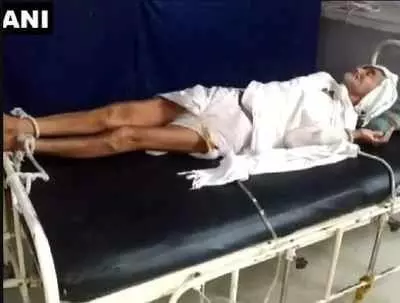 Madhya Pradesh: The administration of Madhya Pradesh's Shajapur district suspended the registration of a private hospital and sealed it after a shocking incident surfaced recently wherein an elderly patient was allegedly tied to the hospital bed by the staff on account of non-payment of his medical bills. FIR was also filed against the hospital directors by the police.
A video of the incident had recently gone viral on social media showing an 80-year-old patient. To this, the hospital authorities justified stating that it was essential to tie the patient for applying certain medication and moreover his family was also present during the procedure holding his hands.
Dr. Varun Bajaj, the director of the private hospital denied all the allegations and confirmed that the patient was discharged and no extra amount was charged. He informed PTI, "The patient was having intestinal problems and in order to administer the medicine, his legs were tied to the bed while his hands were held by his family during the process." He also affirmed that police were informed after those attending the patient expressed an inability to pay the bill and insisted on taking him home.
During the treatment, the family had paid Rs 6,000, followed by another Rs 5,000. However, at the time of discharge, the hospital asked the kin to pay Rs 11,270 more. The patient's family did not have the required amount, and because of the COVID-19 lockdown, they could not even make any other arrangements, reports ANI
READ ALSO: 'Illegal' nursing home found at home of Jammu Doctor, Sealed
Later, the Collector of Shajapur district, Dinesh Jain ordered an investigation after taking note of the media reports claiming that the hospital authorities tied the man to a bed as his family had not settled the bill and an investigating committee headed by ADM. The hospital was shut thereafter.
This incident grabbed public attention after former chief minister Kamal Nath tweeted about the incident. Posting a video of the incident, he stated "Amid corona pandemic, some private hospitals are busy looting the patients and there is nobody to listen".

प्रदेश के शाजापुर में एक अस्पताल में एक बुजुर्ग व्यक्ति से ऐसा अमानवीय , बर्बर व्यवहार।
बेटी का आरोप अस्पताल का बिल नहीं चुकाने पर पिता के हाथ-पैर रस्सियों से बांध बंधक बनाया।
1/2 pic.twitter.com/c46gXjUgfg

— Office Of Kamal Nath (@OfficeOfKNath) June 6, 2020
Chief Minister Shivraj Singh Chouhan on Sunday also gave statement seeking strict actions against the offenders and tweeted "Taking strict action in this incident, the CMHO and the administration has suspended the registration of the City Hospital and sealed it. The police are investigating into this case by registering an FIR against hospital directors."
शाजापुर के एक अस्पताल में वरिष्ठ नागरिक के साथ क्रूरतम व्यवहार का मामला संज्ञान में आया है। दोषियों को बख्शा नहीं जायेगा, सख्त से सख्त कार्रवाई की जायेगी।

— Shivraj Singh Chouhan (@ChouhanShivraj) June 6, 2020
Source : with inputs