Maha: Doctor booked after female colleague alleges multiple rapes, threat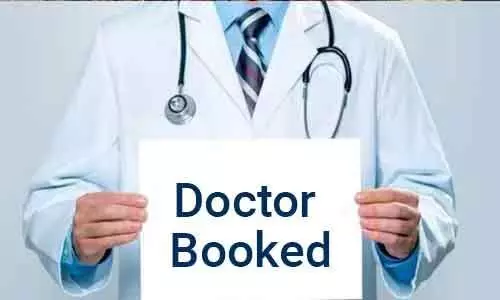 Mumbai: A 31-year-old doctor attached to a prominent hospital has recently been booked based on a complaint moved by his female colleague. The complainant doctor alleged that the doctor had sexually assaulted and raped her multiple times, and even threatened to leak her indecent videos online.

As per a recent media report in the Mumbai Mirror, the doctor, in her complaint alleged that the accused doctor allegedly raped her after spiking her drink to take advantage of her.

The complainant has been identified as a 26-year old medical practitioner, who after completing her MBBS course in Karnataka traveled to Mumbai for further studies. She married in December 2018 and her husband is also a resident doctor in the Raigarh area. The female doctor was residing with other female colleagues in the guest house.
According to the police, the female doctor alleged that her colleague spiked her drink in the hospital and also raped her after taking her to the restroom of the facility. The accused doctor was working in the same medical facility and was appointed in the maternity department along with the female doctor.
In her complaint, the doctor alleged that the doctor started misbehaving with her in 2019.
Mumbai Mirror
reports that one of the officials of Byculla police stated that " the hospital has reserved one room, number 13, for doctors. Initially, in September 2019, the doctor inappropriately touched the complainant doctor but immediately started apologizing claiming it was a mistake."
However, in December 2019 the doctor touched her inappropriately and also threatened her. Later on December 31, 2019, he allegedly spiked her drink and raped her after taking her into the restroom. When she confronted him, he threatened her to make her intimate photos viral on social media, reports Mirror. The doctor also complained that after the outbreak of covid-19, their duties changed but the doctor still made his unwanted advances towards her and tried to touch her inappropriately when she was in the library.
Unable to deal with the whole situation, the doctor returned to Raigad to her husband's house and narrated the series of alleged incidents to him. The couple then approached the Byculla police and lodged a formal complaint against the doctor after which a case was registered and the doctor was booked under the charges of sexual assault.
One of the police officers told the daily, "We are investigating the matter and have also sent her for medical examination. We will make an arrest after gathering more evidence."
Source : with inputs