Maharashtra Medical Council allows telephonic online consultations by doctors with strict riders, Details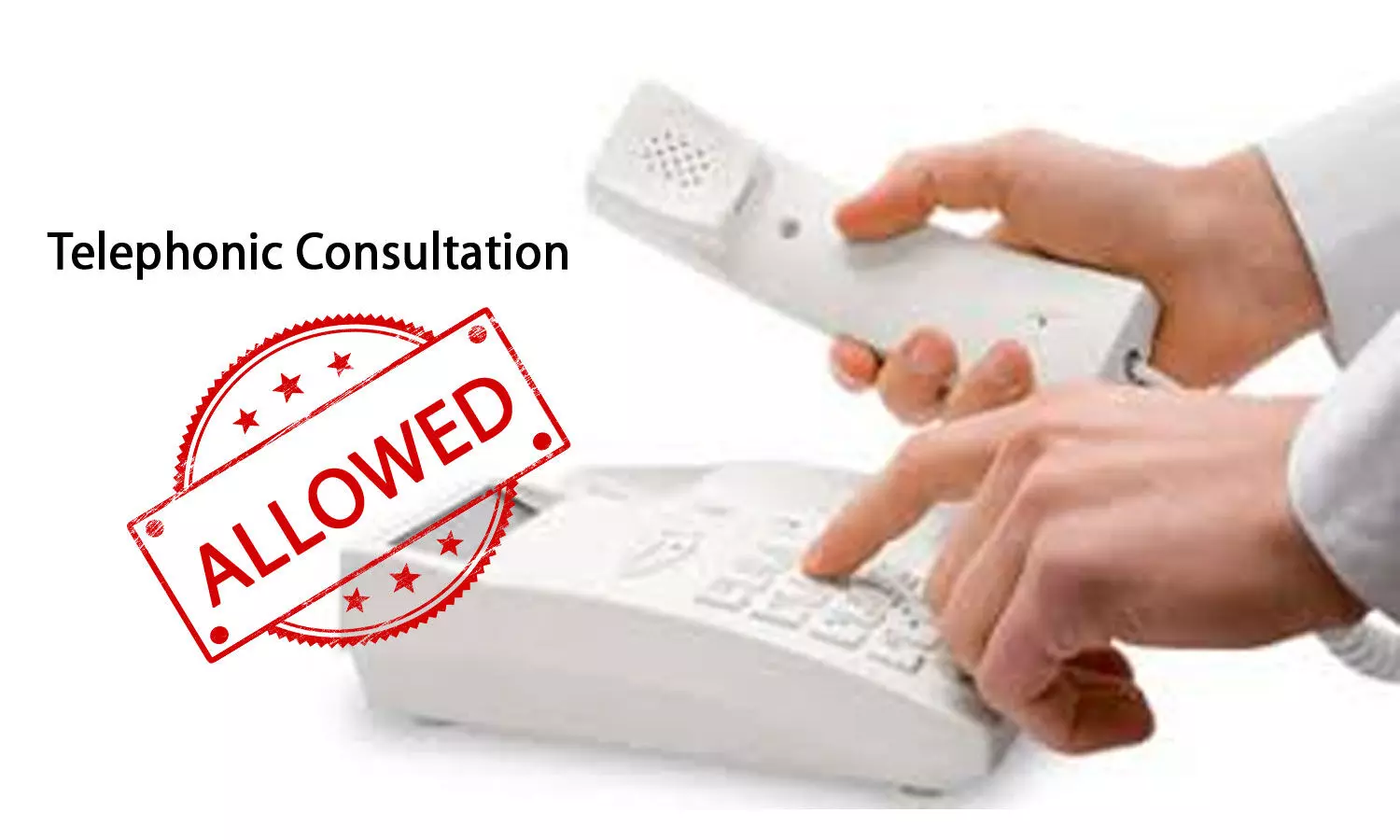 Mumbai: In the wake of rising coronavirus cases in the state, as well as the threat it poses to healthcare workers who are treating the infected patients, the Maharashtra Medical Council (MMC) has given temporary permission to doctors to provide telephonic and online consultations
The council which has also been vary of online and telephonic consultations in the past, has clearly the conditions under which such consultations will be allowed.
Considering the current situation regarding Covid-19 disease and its impending community transmission in the country and the advisory by Union Ministry of Health and Family Welfare and Indian Council of Medical Research (ICMR) to avoid crowding in OPD's, maintain social distance and advise to elderly not to venture out from their residence, the MMC, after due discussion amongst all members, decided to allow telephonic consultation by registered medical practitioners (RMP), who could prescribe drugs online to patients with underlined riders (mentioned in the order attached below) that it was only for the emergency stage," the MMC resolution to this effect stated

"These online consultations have been restricted to minor ailments, routine follow-ups and patients whose medical history is known to doctors" the resolution specified.
The "resolution" issued by the MMC Registrar Sanjay Deshmukh clearly mentions:
"Resolved that RMP's would be allowed to give Telephonic Consultations and send prescriptions online to the concerned patient with undermentioned riders for the period of this emergency phase, till further notice by Govt. authorities of relaxing the advisories pertaining to COVID-19".
The RMP's would have to restrict giving online consultations and prescriptions only in the following conditions.
1) Minor ailments.
2) Routine follow-ups.
3) Only inpatient whose medical history is known to RMP.
4) No injectable to be prescribed.
5) No Prescription for clinically suspected case of COVID-19.
Read Also: Kolkata: One Nursing Home Sealed, 5 Doctors Reprimanded For Ignoring Mandatory Quarantine Order
In addition, the state medical council has directed the RMPs to follow the below-mentioned orders mandatorily while giving prescription to the patients.
1) The Prescription should be on letter-head of RMP with signature and details as per prescription format advised by MMC which in mentioned on MMC website. The photo of the prescription in PDF format should be sent to the patient.
2) RMP should mention as a header that the prescription is given on Telephonic Consultation.
3) RMP should note down short relevant history on letter-head.
4) No advice to be given in word format on any social media
5) RMP's can refer to any images sent by patient pertaining to their disease.
6) The prescription should be dated and a period of medication should be prominently written.
7) All records should be strictly preserved as per rules by RMP's.
Meanwhile, Dr Avinash Bhondwe, state president of Indian Medical Association, said the circular strongly advised against giving any prescription for COVID-19. "During this crisis, we have advised doctors to keep their clinics open only for emergency patients. Telephonic consultation can be allowed for routine/non-emergency patients," Dr Bhondwe told The Indian Express, adding, "Those who have flu-like symptoms can be attended separately to avoid overcrowding."
Many senior doctors and medical staff in the state have been ordered to work from home.
Telephonic and online consultations have been a subject of major debate in the Indian medical fraternity.
In 2018, the state HC had ruled that prescribing medicines to patients without diagnosis amounted to culpable negligence. "Prescription without diagnosis would amount to culpable negligence. This amounts to gross negligence from the point of the standard of care and recklessness and negligence, which is a tricky road to travel," the bench had stated adding, "An error in diagnosis could be negligence and covered under section 304 (A) of the Indian Penal Code. But this is a case of prescription without diagnosis and, therefore, culpable negligence."
Read Also: ATTENTION Doctors- Telephonic Consultation Amounts To Culpable Negligence, Will Attract IPC 304