Nursing graduate posing as resident doctor extorts money from patients at GMCH Nagpur, held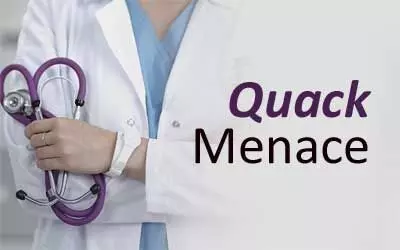 Nagpur: A 22-year-old nursing graduate has been arrested on Thursday for posing as a junior resident doctor in medicine and working at the Government Medical College and Hospital (GMCH), Nagpur for a couple of months.

The quack doctor, who claimed to have got an MBBS degree from AIIMS Delhi allegedly worked at the COVID ward as well. He also extorted money from patients by requesting the doctors of other departments to treat his patients by falsely introducing himself as a resident doctor.
The accused has been identified as a nursing graduate who stays with his widowed mother at Mahal. He used to disguise himself as an MBBS doctor wearing an MBBS nameplate. He used to provide consultation to patients by checking their documents and examining them.
Wearing the apron of another doctor and a stethoscope around the neck, the quack used to stand at the casualty department to target poor and needy patients. Convincing them of better treatment, he used to extort Rs 25,000 to Rs 1,00,000 from the patients. The accused allegedly used to take the patients to the casualty ward and request the resident doctors to take extra care of the patient, reports Nagpur Today.

However, even before the patient's treatment was completed, the doctor used to disappear from the spot following which the GMCH administration started receiving several complaints and the Casualty Medical Officer (CMO) become suspicious.
As per a recent media report by the
Times of India
, the entire menace came to light after the CMO of the facility spotted him as an unknown doctor in the disaster management department where he was supposed to collect the samples of corona patients. The CMO started interrogating him but his answers made him suspect foul play following which the medical superintendent Dr Avinash Gawande was informed. The other doctors also could not confirm his identity as they claimed that have never seen him taking any of the classes or practical sessions. Ultimately the security guard and CMO become alert over the same.
However, the man continued to pose as a doctor and even tried to convince the authorities by claiming to be an alumnus of AIIMS Delhi. Finally finding himself almost exposed, the quack escaped the hospital. The GMCH authorities informed Ajni police and CCTV footage was checked. He returned to the hospital on Thursday and was caught by the authorities and handed over to the Ajni police station. Presently, police are trying to confirm whether he got patients admitted during Covid-19 by introducing them as his relatives, reports the daily.

"The accused would introduce himself as Chief Medical Officer to resident doctors and vice versa," stated senior inspector Vinod Choudhury of Ajni police station.
Source : with inputs