Authorities add more COVID beds without enough manpower: 300 Resident Doctors Of Sassoon Hospital boycott work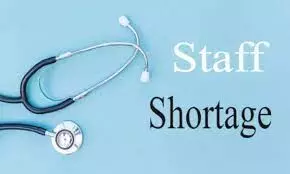 Pune: Raising objection over the shortage of manpower, more than 300 resident doctors belonging to B J Medical College and Sassoon General Hospital went on strike on Saturday and have withdrawn their work at the non-emergency services and will not work at the OPDs and non-Covid wards.
Protesting against the administration's decision to add more covid beds in the Hospital without ensuring enough staff to take care of those patients, the resident doctors' association has decided to stop the non-essential services and non-emergency related services. The hospital administration has not yet reacted to this situation.
However, the emergency services would be continued during the protest, reports ANI.
Sassoon Hospital is one of the major government hospitals in Pune treating COVID patients in a time when the district is reporting over 10,000 cases every day.
Maharashtra Association of Resident Doctors had written a letter to hospital administration demanding an increase in the number of the health staff to treat patients.
Also Read: Kerala house surgeons oppose extension of internship by 3 months, threaten infinite strike
Also Read: Workforce crunch at BJ Medical College: MARD demands recruitment of more doctors, health staff
Medical Dialogues had earlier reported that the association had also delivered a letter to the Dean of the institute stating, "Residents have already suffered a loss of 9 months to their academics. Due to lockdown and alike situations, there was a drastic dip in the procedural and patient variety expected in normal residency. MD/MS candidates additionally have a thesis for which we are not able to collect an adequate sample size already due to the brunt of lockdown. Any further loss makes the thesis entirely unfeasible. Any further loss risks creating an entire generation of incompetent doctors who will not be at par compared to other institutes. As our dean you are also our academic guardian and our academic and professional growth is our institute's responsibility."

Trainee doctors from the B J Medical College and Sassoon Hospital had demanded that the authorities should recruit a new team of doctors, nurses, cleaning staff, and required manpower, to treat Covid patients instead of burdening the trainee doctors with immense work pressure.
The administration however did not respond to any of the demands raised by doctors after which the association has decided to stop non-essential and non-emergency-related services.
Also Read:More than 100 PG Medicos of Coimbatore Medical College boycott duties

While commenting on the issue, the President of Maharashtra Association of Resident Doctors, Vijay Yadav told The Indian Express that they have opposed any further increase in covid beds at SGH without an increase in the necessary doctors and other manpower and resources.

"However, as we have not received any favorable response from the administration, we regret to inform you that we are forced to go forward with the withdrawal of all non-emergency services, until such time as we receive a favorable response from you," the MARD unit at BJMC has written to the Dean at Sassoon general hospital.
Dr. Yadav further informed the daily that the resident doctors would be operational now only in the covid and emergency services section. Services would be offered in the labor room and ICU as well. However, the doctors would not work at the OPDs, Dr. Yadav further added.
Speaking to ANI resident doctor Dr. Vijay Yadav said, "The administration has proposed to add around 300 new beds in view of rising cases of COVID-19 however the present patient flow itself is too high at the hospital that the whole health staff is overburdened with the work. We are indeed ready to serve more patients but for that, it requires more manpower which we are demanding from the hospital administration."
Another resident doctor Dr. Dnyaneshwar said, "The casualty department is full of patients, there are two to three patients lying on one bed. The current flow of patients is indeed high and in such a situation we need more health staff including nurses, doctors to help us treat the patient. We have decided to shut the non-essential and non-emergency services here from today till the time administration listens to our demands."
Patients from across the Pune district reach Sassoon Hospital for treatment and in present situations when COVID cases are high in the district many doctors have also tested positive here.
Speaking on this, a resident doctor said, "Over 80 resident doctors here from us have tested positive for COVID19 in the last month. We are continuously working round the clock and we are ready to do that as well. Earlier we used to have a quarantine system after a work of particular days but now there is no system as such. All we are demanding is the increase in the number of health staff so that we could treat all the patients well."

"We are doing 6000 tests per day right now and now the administration is planning to increase it up to 10,000 tests per day. With the given number of health staff present in the hospital, it is impractical for us to do it."
While addressing the issues faced by the Resident doctors, the letter addressed to the Director of Medical Education and Research has further mentioned, "Trainee specialist doctors – RESIDENT DOCTORS – are being forced to work in general practitioner roles which is detrimental to all parties involved; that is the trainee doctors, the patients, and the limited health care facilities that we have. Resident doctors are being used as a stopgap solution and have been shouldering the burden of COVID doing every minute thing related to patient care. Work that should be done by doctors under the employ of a special covid force of doctors or by a parallel system of doctors appointed by the government is being done by students who were actually given admission as academic students."

"They have supported resident doctors' demands of manpower recruitment and proper segregation of covid patients like critical and noncritical patients and proper triage of patient to tertiary care hospital and to covid care centers in Pune so that there will be no extra burden on resident doctors and covid, non-covid patient will get appropriate care which is need of hour," reported the Indian Express.
Source : with inputs