More than 100 PG Medicos of Coimbatore Medical College boycott duties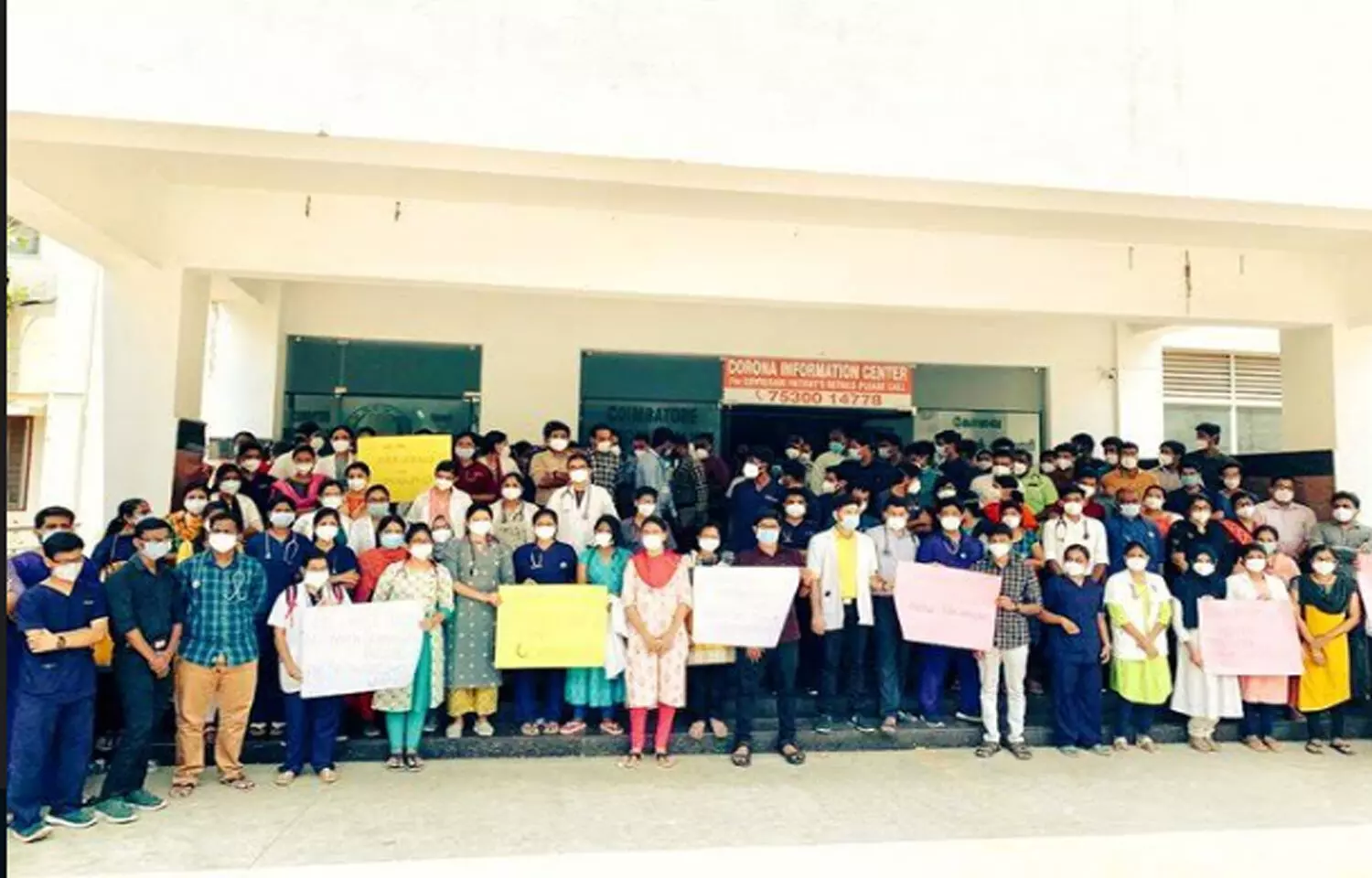 Coimbatore: Over 100 PG medical students of Coimbatore Medical College Hospital boycotted duties for a second day on Thursday to raise various demands including the provision of proper accommodation, food and stipend.

The PG students stated that they will not join their respective duties till their demands are fulfilled. The protest is likely to hit services at the hospital.
These issues have been coupled with the shortage of staff at the hospital as 150 final year MBBS students of the institution have not joined for duty at CMCH as house surgeons as expected.
Medical Dialogues team had earlier reported that after the house surgeons were relieved of the additional two months of compulsory residential internship, the postgraduate medical students at Coimbatore Medical College and Hospital had staged a protest demanding a reduction in workload.
Also Read: PG Medicos of Coimbatore Medical College observe protest, demand reduction in workload, stipend hike

The protest that started on Wednesday leaves the authorities in a tight spot. According to
The New Indian Express
, other than the issue of workforce crunch, the PG medicos have also raised the issue of the lack of accommodation and stipend-related concerns.
As per the representatives, the PG students on the CMCH campus gave their quarters to be used as a Quarantine facility for medicos who are currently serving in covid-19 wards. Earlier, the authorities made arrangements for the medicos in other facilities such as Hostels during the lockdown. However, now authorities are not making alternative arrangements to accommodate the medicos.
" We have not been given our stipend for the last two months. We are forced to buy food as we stay far from the hostel, and it is becoming difficult to manage daily expenses," a PG student told
The New Indian Express.
In the letter submitted to the dean of the institutions, the medicos pointed out that they were facing mental problems and tremendous stress due to increased workload, lack of stipend, and poor lifestyle. They demanded clean rooms with attached bathrooms with 24 hours water supply and hygienic food for PGs in COVID Duty, Post COVID quarantine, and for COVID infected doctors.

Commenting on the additional issue of staff crunch, a representative of PG students told the daily, "Due to the pandemic situation, exams for final year MBBS students have not been conducted yet. They can join as house surgeons only after completing the exams. This is a common situation in all medical colleges."
The issue is being talked about on social media with a circulation of tweets like, " PG students say that they haven't received a stipend for the last 2 months. Their working hours and stress doubled as 150 final year MBBS students are yet to take up duty as house surgeons as their final year exams have not completed due to the COVID-19 situation."
Source : with inputs