CMC Ludhiana professor releases pharmacology book based on new competency-based MBBS curriculum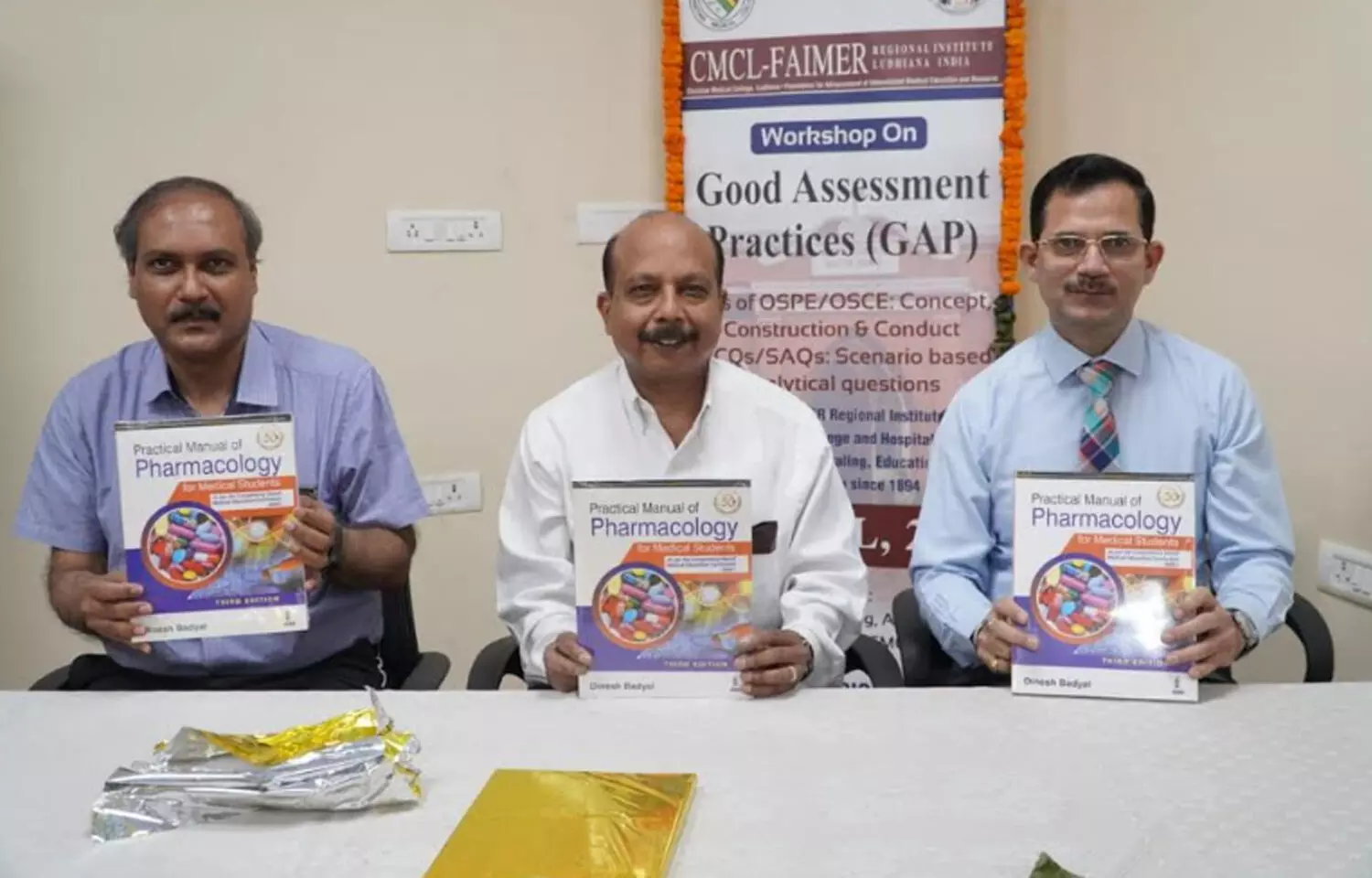 Ludhiana: Dr. Dinesh Badyal, the professor of Pharmacology at Christian Medical College & Hospital, Ludhiana (CMC) has recently released a book on the new competency-based MBBS curriculum.
The book titled ' Practical manual of Pharmacology' was released in the presence of Christian Medical College director Dr. William Bhatti and principal Dr. Jeyaraj D Pandian on 8th April during the inaugural ceremony of training of doctors.

Commenting on his new book, Dr. Dinesh Badyal told Medical Dialogues, "For almost 22 years, we have followed 'Graduate medical Regulation 1997', the same traditional curriculum for MBBS education but that focused more on the teacher and was based largely on recall of memory-based facts. Finally, authorities introduced a competency-based MBBS curriculum in 2019 and the book is fully equipped to fulfill the need for the new applied-aspects training for the new application-based MBBS curriculum."
"The new curriculum has been introduced on a national level. The emphasis is placed more on learner-centred and skill-based techniques. The book has many new innovations such as the use of direct observation techniques, project on research and simulation-based learning," he added.
Dr. Dinesh reflected on the newly introduced changes in the MBBS training and examination systems, including the use of mannequins for injections and various routes of drug administration, use of examination stations, observations of performed skills, and placing less importance on the traditional theory viva. He stated that the book provides systematically organized modules to guide the learners to cope up with these newly introduced changes.
"The book is more suitable for the second-year MBBS student who came under the new curriculum. The first-year curriculum includes general topics like physiology, biochemistry, and the second year is dedicated more to paraclinical studies. They start having practical experiences and they start learning several issues related to the field of pharmacology, pathology, microbiology, and so on. It also included guidance on newly introduced medical conditions for example how to administer the intramuscular had been stagewise explained in the book. Moreover, the book also has checklists so that when the students had to prove their competency before the examiner they don't forget any steps and complete all the necessary steps mentioned in the checklist", added the doctor.
The doctor further informed that other than professional competency, soft skills are also given due importance in the new curriculum. He stated, "Communication is essentially important for a doctor. Starting from explaining critical medical conditions to patients, interacting with the kin of patient to giving interviews, a doctor had to adopt different methods of communication to handle the situation."