COVID-19 pandemic: Parents of MBBS students move Madras HC demanding 40 percent fee slash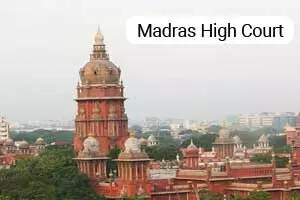 Tamil Nadu: Distressed by the massive amount of medical fees in the medical colleges, the parents of some of the MBBS students of Tamil Nadu have filed a petition in the Madras High court seeking the court's direction to reduce the fee of medical courses for the next academic year.
This came after SRM Medical College authorities issued an order asking the students to pay the full fee despite the lockdown. Hence the aggravated parents of the medical student have appealed to the high court to direct the management to reduce 40% of the fee.

Times of India
reports that the students last year paid 22.5 lacs for their courses at the SRM University but they did not receive the proper value of their hefty free. Moreover considering the economic crisis prevailing in different sections of the society due to the pandemic, a group of parents has appealed to the high court and sought a 40% reduction in the fee for the coming academic year.
The counsel representing the petitioners stated that they have to pay 22.5 lacs including tuition fees and other fees for their medical course annually; however due to the lockdown amidst the pandemic, at least 50% of the total classes for the academic year have been suspended. They stated that the authorities of the colleges should consider reducing the amount significantly.

One of the parents stated in the petition that for another six months there would not be any physical classes and therefore the management should seriously consider that there will be a reduction in administrative cost, electricity bill, and other expenses as well. There is every justification for seeking a reduction of tuition fee as well, stated the petitioners.
TOI adds that considering the submission justice N Anand Venkatesh has instructed the medical college and authorities concerned to submit their response by September 28th. The court has also directed the council for the university TV Ramanujum to utilize good offices in order to resolve the issue connected with the fee structure. The court has also instructed the university to consider payment only in installments.
Stating that online classes can never compensate for the practical classes and hence many portions of the curriculum might stay uncovered, Aliya K Elangoo, the advocate for the parents submitted that "medical education is not kindergarten school and so the online classes will not do any good for students. The foundation of medical courses is 'clinical material' wherein patients visit the hospital facility attached to the medical education institution. Due to these online classes, 1st-year students could not complete their cadaver practicals and study the central nervous system, 2nd-year students are unable to study skull and sides specimens, the third-year students are unable to go for clinical postings and study ENT and ophthalmology practical."
Source : with inputs