Crime branch interrogates two doctors in alleged connection with oxygen disruption case in Tripura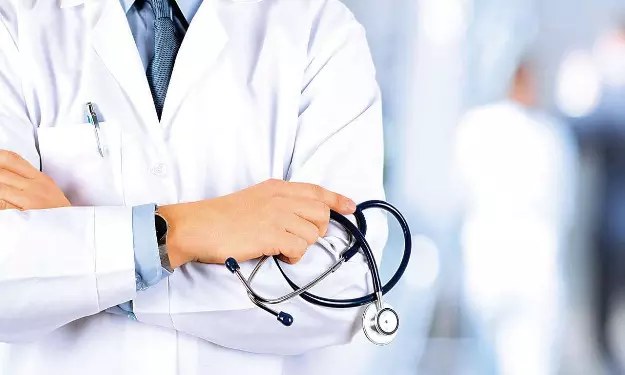 The two doctors were served notice to appear in the crime branch, and police interrogated them for more than an hour, which made doctors of the state unhappy.
Agartala: Tension sparked off in the medical fraternity after the crime branch of Tripura police interrogated two faculty members of Agartala Govt Medical College (AGMC), now turned into the only COVID treatment center of the state in connection with a case of oxygen disruption on September 11 night in ICUs filed by the medical superintendent of the hospital.

According to doctors, around 2300 hrs suddenly on-duty doctors had noticed as many as 36 ICU patients developed sudden breathing problems at a time and they found oxygen supply to the patients was dropped down to half. They communicated to the seniors, medical superintendents, engineers of the oxygen plant, and other top bosses but nobody responded to the call.
Finally, two faculty members of AGMC involved in COVID treatment Dr Choudhury and another Dr Choudhury had issued an SOS call to a private bio-medical instrument engineer who has been involved in repairing works and other crisis management activities for many years.
The patient parties had also made distress calls to the former health minister and BJP MLA Sudip Roybarman urging him to save their patient. Roybarman told media, he was also called that bio-medical instrument engineer Ratul Dey and got to know that he had received the call from the hospital and both of them had gone together around 0100 hrs.

After an hour-long battle, the oxygen line was restored in the presence of the doctors and others. But suddenly, a case was filed against the engineer by hospital authorities a few days later accusing him of a trespasser and charged him for hatching a conspiracy to disturb the oxygen supply line in connivance with some doctors.
According to police, based on the FIR, police referred the case to the crime branch and the investigators grilled engineer Ratul Dey for a long time in two days but could not find any fault on his part. Afterward, the two doctors were served notice to appear in the crime branch, and more than hour police interrogated them, which made doctors of the state unhappy.
"We made police very clear that engineer was called by us and MLA was called by the relatives of the patients when the situation was almost out of control. Had they said we committed a crime by restoring oxygen supply and saving the lives of 36 patients – we are happy to accept it," Dr Choudhary said, adding that intentionally several facts were distorted and concealed to police by the hospital authority to mislead the police.
Meanwhile, another Dr Choudhary said his statement and records given to the internal inquiry committee were not filed to police just to put them in trouble and said, "When we placed all records to the investigators, they started repenting but our question is very clear why we have been publicly insulted with false allegations. And we believe it was made to demoralize the doctors by a vested quarter, which we shall not tolerate."
According to the report, the doctors' organizations have convened urgent meetings to discuss the matter.
Also Read: Tripura: Lone hospital medical superintendent Dr Debashis Roy resigns
Source : UNI