BRD Medical College: Tension ensures after junior doctors allegedly assault lab technician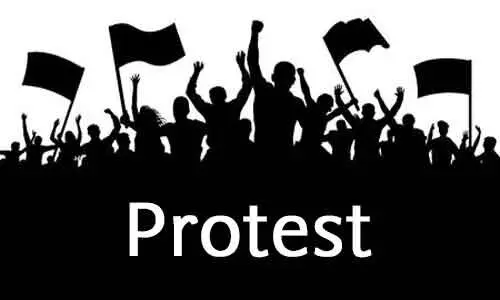 Gorakhpur: A scuffle broke out between the Lab Technicians and Junior Doctor of BRD Medical College after the medicos allegedly assaulted two of the lab technicians for refusing to conduct a COVID test without proper order.

Enraged, the lab technicians on September 2 went on strike and protested against the humiliating behavior of junior doctors towards the lab technicians.
Demanding strict action against the junior doctors who allegedly manhandled two of the lab technicians on 1st September, the protestors sat outside the medical college with placards. As per Ashish Kumar Tripathi, a medical staff, that they will continue their protest and not return to work until the two junior doctors will not be punished.
Shedding light on the incident, the lab technicians stated that junior doctors allegedly assaulted two of the lab technicians after they refused to conduct COVID testing on a female doctor without proper instruction from the authorities. The junior doctors approached the technicians on 1st September night and asked them to conduct a COVID test on a female doctor but as they had no proper order, they refused to conduct the test. After this, the junior doctors allegedly became violent and assaulted the two of the technicians.

Lab technician Vijender K Maurya told ANI, "Junior doctors assaulted us last night when we refused to conduct COVID-19 test of a female doctor without order."
The act was condemned by Dr. Ganesh Kumar, Principal, BRD Medical College, Gorakhpur. "This incident of junior resident doctors assaulting 2 lab technicians is unfortunate and condemnable," he said. He said that an inquiry committee has been set up to investigate the incident and whoever is guilty shall be punished. "Strict action will be taken against those found guilty by the inquiry committee. We have informed the District Magistrate as well," Kumar confirmed.

This incident of junior resident doctors assaulting 2 lab technicians is unfortunate & condemnable. Strict action will be taken against those found guilty by the Inquiry Committee. We have informed the DM as well: Dr Ganesh Kumar, Principal, BRD Medical College, Gorakhpur https://t.co/0xatm8iAQe pic.twitter.com/NhEG2OiOC8

— ANI UP (@ANINewsUP) September 2, 2020
Source : with agency inputs