Steps Taken for Development of AYUSH Systems: Minister apprises parliament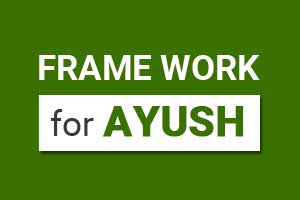 New Delhi: There are 7,73,668 AYUSH practitioners registered in India as on 01.01.2017, the AYUSH Minister Shri Sripad Naik recently informed the parliament.
The minister was responding to a question raised by Lok Sabha Member Shri Hari Manjhi, asking about the number and breakup of AYUSH practitioners practising in the country and highlighting the steps taken by the Ministry for the promotion of AYUSH systems.
The government of India has adopted a strategy of Co-location of AYUSH facilities at Primary Health Centres (PHCs), Community Health Centres (CHCs) and District Hospitals (DHs), thus enabling choice to the patients for different systems of medicines under single window. The engagement of AYUSH Doctors/paramedics and their training is supported by the Department of Health & Family Welfare, while the support for AYUSH infrastructure, equipment/furniture and medicines are provided by Ministry of AYUSH under National AYUSH Mission (NAM).
The government has taken following steps to popularise the AYUSH system in the urban and rural areas:


The State / UT Governments are provided Grant-in-aid for procurement of essential AYUSH medicines for AYUSH Hospitals & Dispensaries, AYUSH Co-located facilities at Primary Health Centres (PHC), Community Health Centres (CHC) and District Hospital (DH) under National AYUSH Mission (NAM).


Further, provision has also been made for following activities under NAM:


i) Behaviour Change Communication (BCC) has been included as a strategy of Mass Media Communication incorporating AYUSH strengths in early prevention of diseases through promotion of healthy diet and life style to be adopted by the community which will be advocated by the states.
ii) Public Health Outreach activity has been included to focus on increasing awareness about AYUSH's strength in solving community health problems resulting from nutritional deficiencies, epidemics and vector-borne diseases, Maternal and Child Health Care.
iii) AYUSH Gram is a concept wherein one village per block is selected for adoption of method and practice of AYUSH way of life and interventions of health care. In AYUSH village AYUSH based lifestyles are promoted through behavioural change communication, training of village health workers towards identification and use of local medicinal herbs and provision of AYUSH health services.


The Ministry takes up initiatives for propagation and promotion of AYUSH systems of medicine including Ayurveda by organizing Arogya fairs/ Melas, Conferences, Exhibitions, Seminar, Workshops, Symposium and also undertaking publicity through electronic multimedia, print media campaigning for awareness amongst the citizens all over the country.


Celebration of International day of Yoga by organizing one month Yoga Training Programme in all districts of India.


State wise AYUSH Registered Practitioners (Doctors) as on 1-1-2017
| | | | | | | | |
| --- | --- | --- | --- | --- | --- | --- | --- |
| S.No. | States/Uts | Ayurveda | Unani | Siddha | Naturopathy | Homoeopathy | Total |
| 1 | 2 | 3 | 4 | 5 | 6 | 7 | 8 |
| 1 | Andhra Pradesh | 15921 | 702 | 0 | 123 | 5247 | 21993 |
| 2 | Arunachal Pradesh | 44 | 2 | 0 | 0 | 293 | 339 |
| 3 | Assam | 1002 | 0 | 0 | 0 | 1160 | 2162 |
| 4 | Bihar | 96841 | 7123 | 0 | 0 | 31992 | 135956 |
| 5 | Chhattisgarh | 3430 | 148 | 0 | 102 | 1824 | 5504 |
| 6 | Delhi | 3421 | 2011 | 0 | 0 | 4827 | 10259 |
| 7 | Goa | 636 | 0 | 0 | 0 | 671 | 1307 |
| 8 | Gujarat | 26311 | 321 | 0 | 0 | 21455 | 48087 |
| 9 | Haryana | 8351 | 268 | 0 | 0 | 5605 | 14224 |
| 10 | Himachal Pradesh | 4975 | 0 | 0 | 0 | 1233 | 6208 |
| 11 | Jammu & Kashmir | 2937 | 2498 | 0 | 0 | 388 | 5823 |
| 12 | Jharkhand | 147 | 30 | 0 | 0 | 285 | 462 |
| 13 | Karnataka | 33869 | 1948 | 4 | 745 | 9102 | 45668 |
| 14 | Kerala | 24076 | 108 | 1657 | 147 | 13156 | 39144 |
| 15 | Madhya Pradesh | 46486 | 1685 | 0 | 15 | 16711 | 64897 |
| 16 | Maharashtra | 76465 | 6833 | 0 | 0 | 64538 | 147836 |
| 17 | Manipur | 0 | 0 | 0 | 0 | 0 | 0 |
| 18 | Meghalaya | 0 | 0 | 0 | 0 | 334 | 334 |
| 19 | Mizoram | 0 | 0 | 0 | 0 | 0 | 0 |
| 20 | Nagaland | 0 | 0 | 0 | 0 | 2084 | 2084 |
| 21 | Odisha | 4846 | 25 | 0 | 0 | 9645 | 14516 |
| 22 | Punjab | 11135 | 211 | 0 | 0 | 4411 | 15757 |
| 23 | Rajasthan | 9762 | 983 | 0 | 8 | 7810 | 18563 |
| 24 | Sikkim | 0 | 0 | 0 | 0 | 0 | 0 |
| 25 | Tamil Nadu | 4357 | 1182 | 6844 | 788 | 5075 | 18246 |
| 26 | Telangana | 10937 | 4764 | 0 | 314 | 4809 | 20824 |
| 27 | Tripura | 0 | 0 | 0 | 0 | 331 | 331 |
| 28 | Uttar Pradesh | 36626 | 13423 | 0 | 0 | 33425 | 83474 |
| 29 | Uttarakhand | 2806 | 129 | 0 | 0 | 726 | 3661 |
| 30 | West Bengal | 3503 | 5172 | 0 | 0 | 37178 | 45853 |
| 31 | A&N Islands | 0 | 0 | 0 | 0 | 0 | 0 |
| 32 | Chandigarh | 0 | 0 | 0 | 0 | 156 | 156 |
| 33 | D&N Haveli | 0 | 0 | 0 | 0 | 0 | 0 |
| 34 | Daman&Diu | 0 | 0 | 0 | 0 | 0 | 0 |
| 35 | Lakshdweep | 0 | 0 | 0 | 0 | 0 | 0 |
| 36 | Puducherry | 0 | 0 | 0 | 0 | 0 | 0 |
| | TOTAL | 428884 | 49566 | 8505 | 2242 | 284471 | 773668 |
Source: State Boards/Councils