Sterilization operation cannot guarantee 100 percent result, hence no negligence in such cases : NCDRC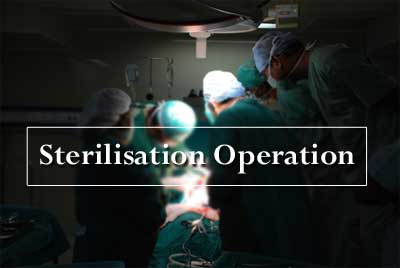 "A Woman becoming pregnant after 4 years of Sterilisation operation, cannot be attributed as Medical Negligence, as no such operation guarantees 100% result, "
With this observation, the National Consumer Disputes Redressal Commission saved Doctors from paying Rs.7.5 Lakhs compensation
MEDICAL SUPERINTENDENT ESI HOSPITAL, NEW DELHI V/s. RAM AVADH PAL, REVISION PETITION NO. 613 OF 2007, decided on 24/01/2017)
Facts in brief :
1. The Wife of the Complainant – (Respondent in appeal) gave birth to a female child at ESI Hospital in the year 2001 and at the same time she underwent the sterilisation operation by Pomeroy's Method wherein pieces from each of the Fallopian tubes were removed.
2. When she visited the Hospital for further check up on 26.09.2005, she was found to be carrying advance pregnancy for 32-34 weeks approximately and delivered a female child.
3. It was contended that they are from lower income group and as they could not afford 2nd child, therefore they choose to undergo sterilisation operation , but now said failure has caused them tremendous mental pain and agony. Thus the Compliant for Rs.7.5 lakhs was filed.
The Lower forum awarded Rs.70,000/- as compensation and hence the Hospital feeling aggrieved thereby approached national commission.
Doctors' Defense :
1. There had been no negligence on the part of the doctors at their Hospital in performing the sterilisation operation upon the wife of the complainant in the year 2001.
2.The Histopathology report clarifies that pieces were cut from both the Fallopian tubes
Held :
1. The National Commission after going through the documents and medical literature, allowed the Revision Application. The court clearly observed that
The doctors used the Pomeroy's Method for the sterilisation operation and removed pieces from each of the Fallopian tubes.  The medical literature quoted above indicates that this is the most commonly used technique in India, but even in this technique, the failure rate is 0.3%.  The fact remains, therefore, that none of the methods used for sterilisation can be stated to provide a 100% guarantee that pregnancy will not occur again.  It is clear, therefore, that if the wife of the complainant became pregnant after 4 years of the sterilisation, it cannot be attributed to any negligence on the part of the doctors or the hospital in any manner.
2. It relied "State of Punjab vs. Shiv Ram & Ors." [AIR 2005 SC 3280], in which, the medical literature on the issue had been discussed in great detail, and it was brought out that none of the procedures carried out for sterilisation could guarantee 100% exclusion of pregnancy. and the COMPENSATION CAN BE AWARDED ONLY IF FAILURE TO OPERATION IS ATTRIBUTABLE TO NEGLIGENCE DOCTORS. BURDEN OF PROOF LIES ON THE CLAIMANT.
3. In the present case, although both Fallopian tubes had been cut, but with the passage of time, there was a possibility that the tubes would have got reconnected in natural course and therefore after 4 years from the Operation, Doctors cannot be held negligent, as it has not been proved at all, if any. Moreover it was observed that, if they could not afford the 2nd child, then why there were no efforts for MTP ? ,
A Good judgment indeed. Proper documentation has once again saved Drs…..
Adv. Rohit Erande ©
Pune
To read the full judgement click on the following link
http://cms.nic.in/ncdrcusersWeb/GetJudgement.do?method=GetJudgement&caseidin=0%2F0%2FRP%2F613%2F2007&dtofhearing=2017-01-24