Case of intestinal obstruction after retained laparotomy towel during surgery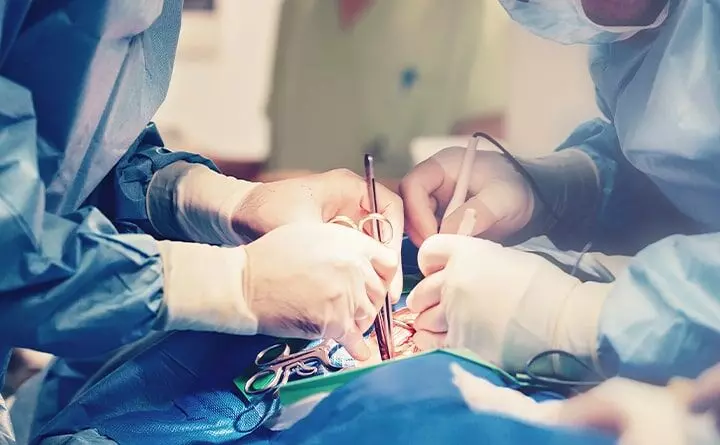 Ghana: The researchers from Ghana report the case of an intestinal obstruction secondary to an intra-luminal foreign body. Intra-operative findings revealed a laparotomy towel accidentally left behind during a laparotomy for a ruptured acute appendicitis.

The case report, published in the International Journal of Surgery Research and Practice, describes the case of a 62-year-old patient presented to Komfo Anokye Teaching Hospital (KATH) with complaints of colicky dull abdominal pains, constipation, vomiting and gradual progressive abdominal distension for three weeks but passed flatus. Abdominal pain was non-radiating with no relieving and aggravating factors.

She had a long history of diabetes and hypertension. Patient had laparotomy with appendicectomy done 17 months ago on account of histopathologically confirmed ruptured appendicitis. She has been reporting subsequently with non-specific abdominal pain until worsening of her current condition.
Local examination revealed abdominal distention, with a presence of a lower midline incision scar, generalized tenderness, guarding; however, intact hernia orifices were intact. Plain abdominal radiographs showed multiple air-fluid levels and an abdominopelvic ultrasound suggested no intra-abdominal mass, free fluid or lymph nodes noted, while the bowel loops of normal wall thickness with normal peristaltic activity.
Pre-operative diagnosis of intestinal obstruction secondary to postoperative adhesions was made and patient was optimized for surgery and intravenous antibiotics started. She underwent laparotomy; the abdomen was explored through a median incision revealing multiple adhesions between bowel loops and a palpable mass in the sigmoid colon. Bowel proximal to mass was dilated and rectum was collapsed. The sigmoid colon was resected and end-to-end colorectal anastomosis done to restore bowel continuity. It was noticed that the cause of the obstruction was a migrated sponge into the lumen. The post-operative period was uneventful, and patient was discharged on the 10th postoperative day. She was subsequently reviewed on two occasions after discharge and had no complaints.
Sigmoid colon was then dissected by a pathologist when sample was sent for histopathology, revealing a 15 × 10 cm laparotomy towel
What is Gossypiboma?
Gossypiboma is a term used to designate a mass of cotton material, commonly, sponges, gauze and towels, unwittingly left in the body at the end of surgical operation. It is one of the principal causes of intestinal obstruction with unknown incidence rate due to the fear of medico-legal implications. However, it has been reported as 1 in 100-3000 for all surgical interventions and 1 in 1000-1500 for intra-abdominal operations.
Retained surgical sponges (gossypiboma) are very rare but occur even under the presumed correct sponge counts postoperatively. Gossypiboma has the ability to cause significant harm to the patient and carry heartfelt medicolegal and professional repercussions to clinicians and hospitals. Its manifestations may be non-specific and may take weeks, months or even years from the time of surgery. Therefore, diagnosis is based on a high index of suspicion with careful assessment of the patient's history, physical examination, and investigation. Retained sponges may extrude externally through a fistulous tract or internally into the rectum, vagina, bladder, intestinal lumen or through direct migration; however, intra-luminal migration is relatively rare.
"Intestinal Obstruction Secondary to Intra-Luminal Retained Laparotomy Towel: A Case Report," is published in the International Journal of Surgery Research and Practice.
DOI: https://www.clinmedjournals.org/articles/ijsrp/international-journal-of-surgery-research-and-practice-ijsrp-6-104.php
Source : International Journal of Surgery Research and Practice