Ectopic bronchogenic cyst arising from diaphragm: Rare case reported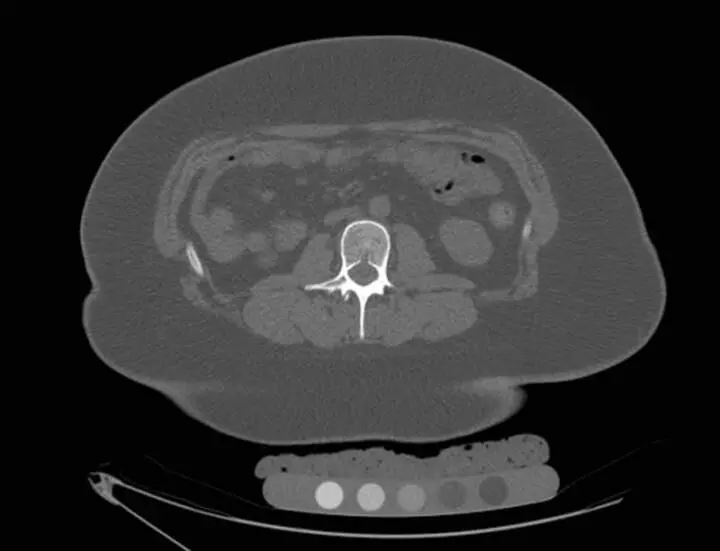 Dr. Juan Tang and colleagues have reported a rare case of an ectopic bronchogenic cyst arising from the diaphragm. The case was published in the Journal of BMC Surgery on 10 August 2021.

Bronchogenic cysts (BCs) are congenital abnormalities of the ventral foregut produced by aberrant tracheobronchial tree sprouting. They are typically seen in the mediastinum, lungs, and other uncommon locations, depending on the degree of aberrant budding that happened during development. According to the site of the lesions, Bronchogenic cysts (BCs) are classified into three types: intrapulmonary, mediastinal, and ectopic. In general, as long as the tumour is fully excised, the prognosis of ectopic Bronchogenic cysts is typically favourable for benign tumours.
According to history, a 66-year-old lady with a 6-month history of coughing and sputum with blood arrived at the hospital. She denied having a temperature, chest discomfort, or feeling constricted. All vital signs were normal, according to a physical assessment.
The laboratory findings indicated a modestly increased number of folate receptor-positive circulating tumour cells. During the surgery, a 652 cm lamellar cystic tumour originating from the diaphragm close to the chest wall was discovered and fully removed using a linear cutting stapler.
A cystic formation filled with thick white mucus was revealed by histopathologic investigation. The cyst was composed of smooth muscle, loose connective tissue, and pseudostratified ciliated columnar epithelium lacking cellular atypia at the microscopic level.
This incidence of ectopic type is the lowest of others. Most individuals have no or few clinical symptoms as a result of compression of adjacent tissues or problems connected to cysts. There is usually a clear link between clinical symptoms and lesion locations, and patients with ectopic BCs may present with a variety of symptoms such as stomach discomfort, dysphagia (esophagus), dyspnea (neck), and chest pain (pericardium).
Due to respiratory complaints and abnormal CT scans, the patient was first diagnosed with a lung tumour in this case. She had been treated with conservative treatment, but it had not provided her any relief.
The cyst growing from the diaphragm was not seen until the procedure, and pathology confirmed the diagnosis of ectopic BC. Even in asymptomatic individuals, full surgical resection is indicated due to the possibility of complications and malignant change.
VATS, or minimally invasive surgery, is a helpful diagnostic procedure for identifying the site of lesions and then aiding in diagnosis. Furthermore, there are certain possible consequences of BC, including as infection, cyst rupture, haemorrhage, and potentially malignant change. Radiological testing has a high clinical utility in detecting ectopic Bronchogenic cysts (BCs) early.
The case report brings home the fact that in complex cases, trans tracheal and percutaneous cyst aspiration has been suggested as an alternative to surgical procedure, but due to high incidence of recurrence, it has not been completely accepted. Generally, the prognosis of ectopic Bronchogenic cysts (BCs) is usually optimistic for benign tumours, as long as the tumour is completely removed.
Source
BMC Surgery, 10 August 2021
Tang, J., Zeng, Z., Deng, S. et al. Ectopic bronchogenic cyst arising from the diaphragm: a rare case report and literature review. BMC Surg 21, 321 (2021). https://doi.org/10.1186/s12893-021-01317-w
Source : BMC Surgery