Rapunzel Syndrome: Doctors remove half kg human hair, empty shampoo packets from girl's stomach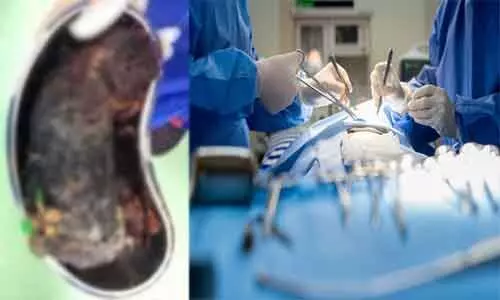 Coimbatore: City doctors here came across what might be a rare case of eating hair known as Rapunzel Syndrome or Trichophagia which can be can be associated with the hair-pulling disorder called Trichotillomania. The rare syndrome is named after the long-haired girl Rapunzel in the Brothers Grimm fairy tale. Doctors at VGM Hospital removed half kg of human hair along with shampoo packets from a young girls stomach

The girl, a 7th standard student, complained of a frequent stomach ache for the last few months and the parents, took her to the private VGM Hospital here.

The scan revealed a ball-like object in the stomach and doctors decided to remove it by endoscopy, hospital chairman V G Mohanprasad said.
As the attempt failed, it was decided to operate to remove the foreign particles, he said.
Accordingly, surgeon Gokul Kripashankar and team conducted the surgery and successfully removed the hair and the empty shampoo packets from her stomach, he said.
The doctors removed more than half kg of human hair besides plastic pieces like empty shampoo packets from a 13-year-old girl's stomach.
The girl was mentally upset due to the death of a close relative, which led to her consuming objects like the empty packets and hair, which accumulated, resulting in frequent pain, Gokul told reporters. The girl has recovered fully and is normal, he said.
The phenomenon of hair is known as Rapunzel Syndrome
These hairballs can cause nausea, bloating, abdominal pain and vomiting. Other symptoms include reduced appetite, weight loss and constipation or diarrhoea. The human stomach is unable to digest hair, so it accumulates later turning into a clump. In some cases, the bowel can be punctured which can lead to sepsis - which, without quick treatment, can lead to multiple organ failure and death. Therefore it can lead to death if urgent surgery is not undertaken. The syndrome is more common in females compared to males.