Rare case of neonatal Idiopathic esophageal perforation reported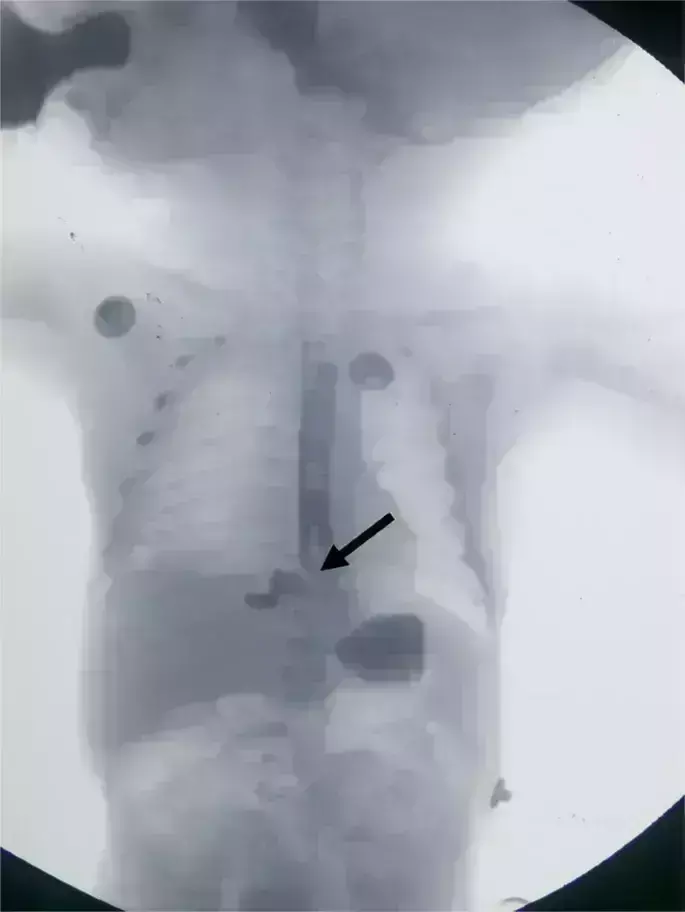 Wei Fan and Jinshi Huang from Department of Neonatal Surgery, Jiangxi Children Hospital, China have recently reported a rare case of neonatal Idiopathic Esophageal Perforation. They published their findings in the Indian Journal of Surgery.

Idiopathic esophageal perforation in the neonatal is a rare entity. The presentation is usually with mediastinal inflammation, icherrhemia, and infectious shock, all of which are potentially life-threatening. The authors witnessed a case with an unusual right-side pneumothorax chest and esophagography suggesting an esophageal perforation.
Case history:

A newborn Baby boy vaginally delivered at 40 weeks of gestation, (gravid 1, para 1) began to moan, presented symptoms of cynosis and breathed haisly for 3 hours post-delivery. By assessing chest X-Ray doctors found right-side pneumothorax, necessitating the thoracic cavity closed drainage. They found white drainage as the child was fed with milk. The child had a no history of NG tube placement or endoscopy operation in a local hospital. Later the boy was transferred to the Department of Neonatal Surgery of Jiangxi Children Hospital 11 h after birth.
Diagnosis and treatment procedure were:

Wei Fan and colleagues performed esophagography and diagnosed Esophageal perforation using a contrast agent injected into the right thoracic cavity through the lower esophagus. They treated the child conservatively which include strict fasts, parenteral nutrition, closed thoracic drainage, and broad-spectrum antibiotic through intravenous injection. However, infection aggravated which was indicated by his rising body temperature and CRP level.
As conventional therapy doesn't improve the condition, doctors switched to thoracoscopic surgery in general anesthesia with tracheal intubation. The child was in 45° prone position to facilitate exposure of the esophagus. They used three ports to assess thoracic cavity. A 5-mm camera port was inserted just below the tip of scapula at the posterior axillary line in the 5th intercostal space. Two ports (3 mm) were inserted above and below the first port in the mid-axillary line. During the surgery, they located the perforation in the lower thoracic esophagus adjacent to the diaphragm. They sutured the perforation and irrigated the pectoral cavity with physiologic saline to clean the fibrino caused by perforation. Then they placed the gastrointestinal decompression tube through the oral cavity. The cavity-closing drainage tube was reinserted and maintained during the operation.
The Outcome of surgery:
Seven days post-surgery they performed alimentary-tract contrast examination and confirmed no anastomotic fistula. As the right lung was fully expending, doctors advice to start feeding milk.
The authors concluded, "The patient showed a steady recovery in a postoperative follow-up. The esophagography revealed no esophageal stenosis or fistula or other complications".
They further added, "The esophagography performed at the 3-year follow-up suggests no esophageal stenosis and the patient eats and develops well".
For further information:
https://link.springer.com/article/10.1007/s12262-020-02075-4
Article Source :
Indian Journal of Surgery