Rare case of recurrent eccrine poroma in the gluteal region treated by excision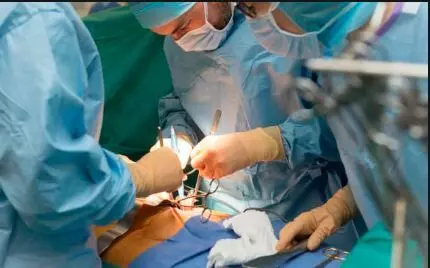 In a recent report published in the International Journal of Surgery Case Reports, Abdulkarim Hasan et al from the Department of Pathology, cairo, presented an unusual case of eccrine poroma in the gluteal region of a 62 years old female associated with gluteal abscess has been surgically excised with success.

Eccrine poroma is a benign adnexal neoplasm originating from epidermal sweat ducts mainly affecting the palmoplantar skin. This is the first reported case of recurrent poroma in the buttock.
The incidence of poroma is approximately 0.001%–0.008% of all skin biopsy specimens and usually presents as a painless, solitary lesion, usually affecting the palms, the soles, or the feet. EP is less commonly reported in the finger, posterior side of the hand, chest, forehead, nose, and scalp . To date, very limited cases of poroma on the buttock region have reported in the literature but no recurrent poromas were reported at this anatomical site.
Its etiology is associated with a history of trauma, radiation exposure, viral infection, or actinic damage. The typical clinical presentation is a slow-growing asymptomatic dome-shaped nodular lesion, plaque, often uncolored, or pigmented.
The 62-year-old female presented with clinical features of a left-side gluteal abscess.Upon physical examination, a firm nodule was palpated; the white blood cell count was 9500/μL, and a random serum glucose level was measured to 140 mg/dL. Microbiological examination based on culture and sensitivity testing of the drained fluid revealed E.coli organisms . Pathological examination revealed a fibro-fatty tissue piece covered by a skin piece, with an underlying, relatively circumscribed soft-to-firm yellowish nodule with a least surgical margin of 0.2 cm.
On diagnosis, the poroma was surgically excised with histologically clear margins.
17 months from the operation, the patient returned with a recurrent gluteal abscess at the same site; surgical drainage was performed, and skin thickening was observed then excised.
"The clinical presentation, in our case, was a suppurating lesion, which may have developed due to recurrent trauma to this particular site in the buttock, what had predisposed it to recurrent infection by various types of bacterial infection during the first and second episodes."
"We recommend simple excision with adequate margin in case of the mass lesion suspicious for EP in the gluteal region to ensure limitation of recurrence or malignant transformation to carcinoma. Eccrine porocarcinoma is a rare but aggressive type of skin tumor; it may arise denovo or complicate EP ."said the team .
For full article copy link : https://doi.org/10.1016/j.ijscr.2020.08.042
Primary source: International Journal of Surgery Case Reports
Source : International Journal of Surgery Case Reports