Intraoperative assessment in bariatric procedure found to be beneficial: Study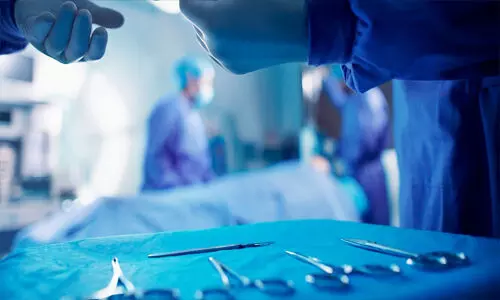 New Rochelle, NY - The benefits of intraoperative assessment of laparoscopic sleeve gastrectomy for obesity far outweigh those of obtaining a postoperative upper gastrointestinal (PUGI) radiographic series. The benefits of intraoperative esophagogastroduodenoscopy (IEGD) are outlined in the peer-reviewed journal Bariatric Surgical Practice and Patient Care, Click here to read the article now.

More than 250,00 laparoscopic sleeve gastrectomy are performed annually, and it is the preferred surgical choice for obesity. It accounts for more than 61% of all bariatric procedures.
IEGD and PUGI are performed to assess the integrity of the stapled gastric sleeve in laparoscopic sleeve gastrectomy.
Vishnu R. Mani MD, from Duke University Medical Center and Columbia University College of Physicians and Surgeons at Harlem Hospital, and coauthors, performed a retrospective review, comparing IEGD and PUGI across several parameters. These included length of stay after gastrectomy, operative time, anesthesia time, complications, readmissions, radiation exposure, and economic impact. The main benefit is in length of stay. Nearly 92% of patients in the IEGD group were discharged on postoperative day 1, whereas only about 71% of patients in the PUGI group were discharged on postoperative day 1. An added benefit of IEGD is avoiding the radiation exposure that comes with PUGI testing, although minimal. Costs increased by 134.36% on average in the PUGI group compared to the IEGD group.
The authors concluded that, "While there is statistically significant increased operative time in the IEGD compared to PUGI group with a mean of about 6 minutes, the benefits stem from the significantly reduced hospital length of stay, early initiation of diet, reduced cost, and total lack of radiation exposure, early discharge, and most importantly increased patient satisfaction with similar clinical outcomes."
"This study highlights the importance of bariatric surgeons being proficient in surgical endoscopy. The use of intra-operative EGD to access for leaks or surgical abnormalities has been proven to shorten length of stay and hospital cost in this study. Bariatric surgeons needing extra training can sign up for the BE-SAFE (Bariatric Endoscopy Skill Acquisition Focused Evaluation program) sponsored by ASMBS and SAGES," says Editor-in-Chief Dean J. Mikami, MD, FACS, John A. Burn School of Medicine, University of Hawaii.
Source : Bariatric Surgical Practice and Patient Care