Prophylactic clipping reduces bleeding in resection of proximal colorectal polyps: Study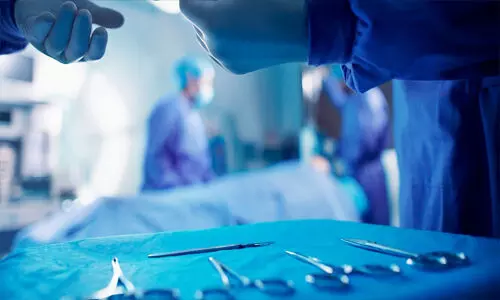 Colorectal cancer screening programs have been implemented worldwide for early detection and removal of premalignant polyps. The most common major adverse event after polyp resection is delayed bleeding, leading to repeat colonoscopy and hospitalization. The risk of delayed bleeding varies from 0.4 to 12.7% and increases with polyp size and type, location in the colon proximal to the splenic flexure, polyp type, antithrombotic use and in patients on antithrombotics. Prophylactic clipping has been suggested to prevent delayed bleeding, but contradicting results have been reported.

Clip closure is defined as the placement of one or more clips to close the mucosal defect after radical polyp resection. As current evidence is not irrefutable, current guidelines advise against the routine use of prophylactic clipping of the resection defect, except for right-sides lesions >20mm and certain high-risk patient groups. Nonetheless, the exact definition of high risk patient groups is an area of debate. Since costs of clipping are substantial, it is important to identify patients that may benefit from prophylactic clipping and to develop a tailor-made clinical strategy.
Prophylactic clipping reduces delayed bleeding after resection of non-pedunculated, proximal colorectal polyps ≥20 mm, especially in patients using antithrombotics,suggests new findings from a study published in Clinical Gastroenterology and Hepatology .
Non-pedunculated colorectal polyps are normally endoscopically removed to prevent neoplastic progression. Delayed bleeding is the most common major adverse event. Clipping the resection defect has been suggested to reduce delayed bleedings. Researchers aimed was to determine if prophylactic clipping reduces delayed bleedings and to analyze the contribution of polyp characteristics, extent of defect closure and antithrombotic use.
For the study design, an Individual Patient Data Meta-Analysis was performed. Studies on prophylactic clipping in non-pedunculated colorectal polyps were selected from PubMed, Embase, Web of Science and Cochrane database (last selection: April 2020). Authors were invited to share original study data. The primary outcome was delayed bleeding ≤30 days. Multivariable mixed models were used to determine the efficacy of prophylactic clipping in various subgroups adjusted for confounders.
Results highlighted some key facts.
Data of 5,380 patients with 8,948 resected polyps were included from three RCT's, two prospective and eight retrospective studies.
Prophylactic clipping reduced delayed bleeding in proximal polyps ≥20 mm (OR 0.62; 95% CI 0.44 - 0.88; Number Needed to Treat [NNT] = 32), especially with antithrombotics (OR 0.59; 95% CI 0.35 - 0.99; NNT = 23; subgroup of anticoagulants/double platelet inhibitors N=226; OR 0.40; 95% CI 0.16 - 1.01; NNT = 12).
Prophylactic clipping did not benefit distal polyps ≥20 mm with antithrombotics (OR 1.41; 95% CI 0.79 - 2.52).
"Our data suggest that prophylactic clipping should not be used after resection of polyps <20mm or distal polyps ≥20 mm, irrespective of antithrombotic use. These results further show which patients may benefit from prophylactic clipping. This is important for cost saving purposes and optimal use of endoscopic clips. Further studies are needed to investigate whether improvement of clip closure techniques will reduce bleeding risk and bleeding severity in patients with an increased risk of delayed bleeding."the team concluded.
· For full article follow link: 10.1016/j.cgh.2021.05.012
Source: Clinical Gastroenterology and Hepatology
Source : Clinical Gastroenterology and Hepatology