Strong Association between hemorrhoidal disease and Chronic Venous Disease: Indian Sub-analysis of CHORUS Study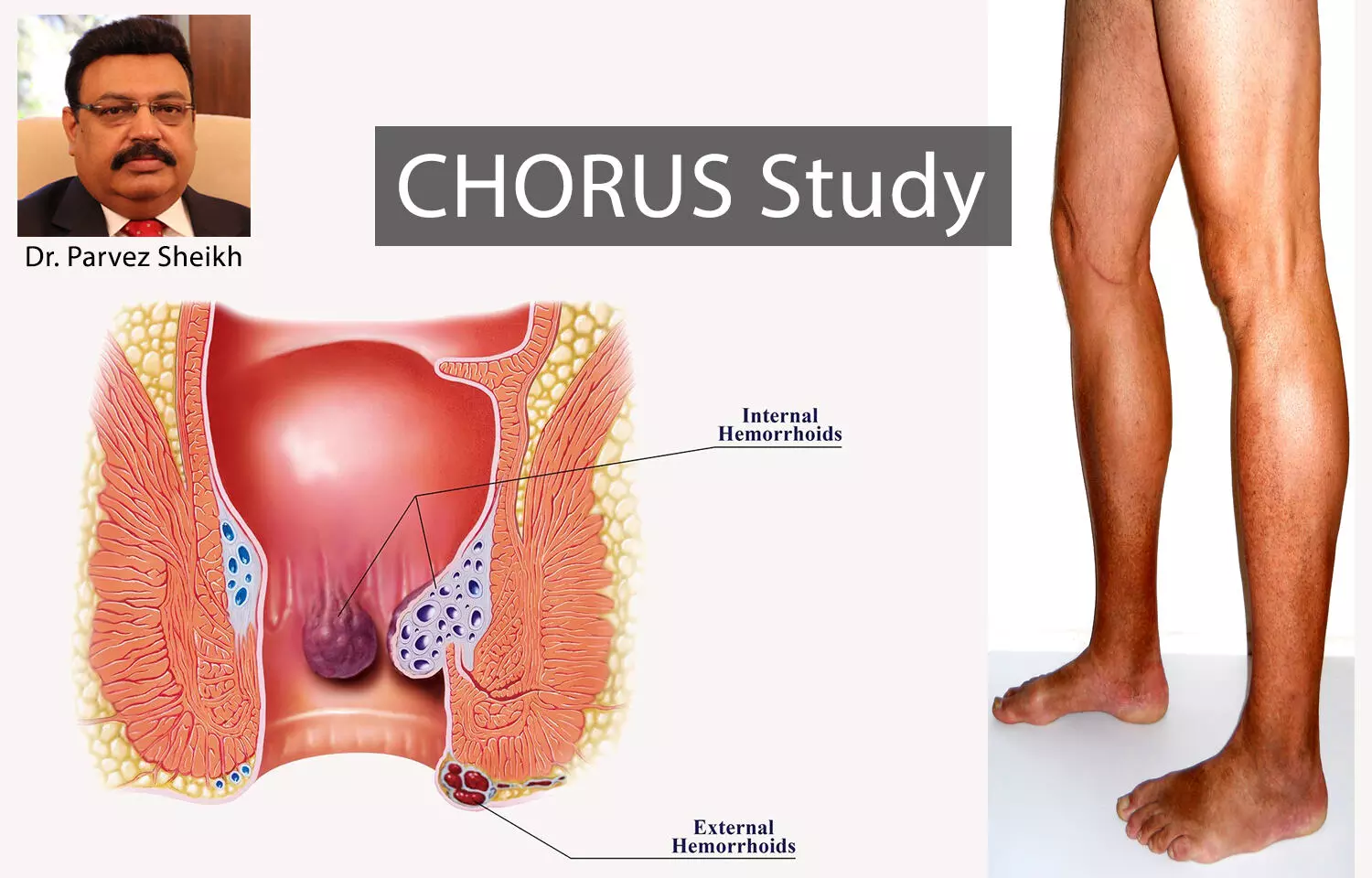 India: A recent study on the CHORUS (Chronic venous and HemORrhoidal diseases evalUation and Scientific research) India subset has confirmed an association between hemorrhoidal disease and CVD (Chronic Venous Disease). The findings of the study, published in the Indian Journal of Surgery highlight the importance of investigating CVD signs in hemorrhoid patients and vice-versa. This would help in a better understanding of the diseases and optimizing the management.
CHORUS was a multinational cross-sectional survey conducted by Servier, in seven countries including India, Belgium, Mexico, Thailand, Pakistan, Russia, and Slovenia between January 2015 and February 2016. In India, 95 healthcare professionals participated in the study, including surgeons, consulting physicians and general practitioners.
The study was performed in the setting of routine consultations reflecting real-world clinical practice and enrolled consecutive patients with spontaneous complaints of hemorrhoidal disease.
Investigators further verified the presence of hemorrhoidal disease either digitally or through anoscopic examination. Thereafter, consecutive patients consulting for the hemorrhoidal disease were screened to confirm the presence of chronic venous disease. Hemorrhoidal disease was classified using Goligher's classification and CVD was classified as per the CEAP (Clinical-Etiology-Anatomy-Pathophysiology) classification.
Despite the importance of the two commonly observed clinical conditions, hemorrhoidal disease, and CVD, high-quality epidemiological studies have not been carried over in India, and also, the frequency of concomitance for these two diseases has been poorly studied. So, to fill this knowledge gap, Dr. Parvez Sheikh, Colorectal Surgeon at Saifee Hospital, Mumbai, Maharashtra, India, and colleagues conducted an analysis in the Indian population, subset of the CHORUS study to determine the frequency of symptoms (bleeding, rectal swelling, constipation, soiling, itching and pain) in people consulting for hemorrhoidal disease. Also, they assessed the possible concomitance between chronic venous disease and hemorrhoids in Indian patients
"Both Hemorrhoids and Chronic Venous Disease of the lower limbs have one thing in common- that there is a problem with the veins. The whole idea behind the survey was to see whether there is correlation between these two diseases, that is, if a patient has Hemorrhoids, whether she/he also has problem with the veins in the form of Varicose Veins or Chronic Venous Disease and vice-versa or not," Dr Parvez Sheikh informed Medical Dialogues team.
The study analyzing the data collected exclusively from India focused on 2511 eligible patients of which 63.8% were male and the mean age of patients was 43.3 ± 12.2 years.
Key findings of the sub-analysis showed:
• 95.7% of patients had physician-confirmed hemorrhoidal disease (grade I: 26.5%, grade II: 46.8%, grade III: 21.7%, and grade IV: 5%)
• In the patients who consulted for anal problems, 66.7 % (1649) reported constipation
• Bleeding, swelling, prolapse, and fecal incontinence were significantly associated symptoms/signs of hemorrhoidal disease.
• About one-third of patients (37.5%) had reported simultaneous occurrence of hemorrhoidal disease and CVD and the occurrence of hemorrhoidal disease was significantly correlated with the presence of CVD.
• The most common venous problems noted were edema in 13.2% patients, venous leg symptoms in 25.3%, varicose veins in 18.98%, and telangiectasia in 13.0% patients
• 70.4% of patients with CVD had the recurrent hemorrhoidal disease.
• In 55% of patients, daily time in standing position was between 3 and 6 hours.
• 24% of the patients were current smokers Among women, 17.7% took contraceptive pills and 4.93% were on hormone replacement therapy (HRT). About 75.21% of the women (622) had given birth.
• Venoactive drugs were the most frequently prescribed (in 95.7% patients) treatment for hemorrhoidal disease. Among them, MPFF (especially Daflon 500 mg/1000 mg) was the commonly used treatment and represented 86.2% of the venoactive dugs used. Doctors also prescribed diet with fibers in 85.8%, topical cream in 60.6%, and medicines for pain relief in 28.8% of cases.
The authors noted that their findings are similar to those reported for the overall CHORUS cohort. In this India sub-group analysis, bleeding from the anus and pain followed by anal swelling and itching were the most common symptoms encountered in patients with hemorrhoidal disease. Constipation was associated with the confirmation of hemorrhoids. Over one-third of patients with anal problems had CVD, and hemorrhoidal disease confirmed by physicians was present in 93.7% of them.
"Statistically significant association between the incidence of hemorrhoidal disease and CVD has also been identified in CHORUS and the association is irrespective of CVD grade in both India and global analysis. This indicates that patients with the hemorrhoidal disease are at high risk of developing CVD. Therefore, they should be regularly monitored for the development of CVD to enable early detection and treatment," the researchers noted.
Explaining the findings, Dr Sheikh further told Medical Dialogues," The Indian Sub-analysis revealed that a high correlation between the two diseases. We found that in the International study, almost half the patients of hemorrhoids had a problem with their legs as well, which incidence-wise was much higher than in the normal population. Further, there were many co-existing morbid factors such as obesity in both diseases.."
"The study is indeed a starting point for further research in the area, as once we have identified with this survey that there is a high correlation between the two diseases, we can now move for formulating some sort of management criteria for both the diseases and some common therapy.
Secondly, in terms of practitioner perspective, with the background of this correlation, if a patient comes to us with one disease say with complaints of Hemorrhoids, we as doctors must ask them about the legs and examine them for varicose veins and CVD, and vice-versa. This will lead to early diagnosis and intervention in case of both the diseases," he explained
" Thirdly it was found that MPFF, which we regularly use for Hemorrhoids was also effective for Chronic Venous diseases. In both the conditions, when there is pooling of blood, the drug acted effectively and was found to be commonly prescribed by the doctors," he further added
You can read the full study by clicking on the following link: Meghna A Singhania is the founder and Editor-in-Chief at Medical Dialogues. An Economics graduate from Delhi University and a post graduate from London School of Economics and Political Science, her key research interest lies in health economics, and policy making in health and medical sector in the country.She is a member of the Association of Healthcare Journalists. She can be contacted at editorial@medicaldialogues.in. Contact no. 011-43720751