Treatment Modalities of Hemorrhoidal Disease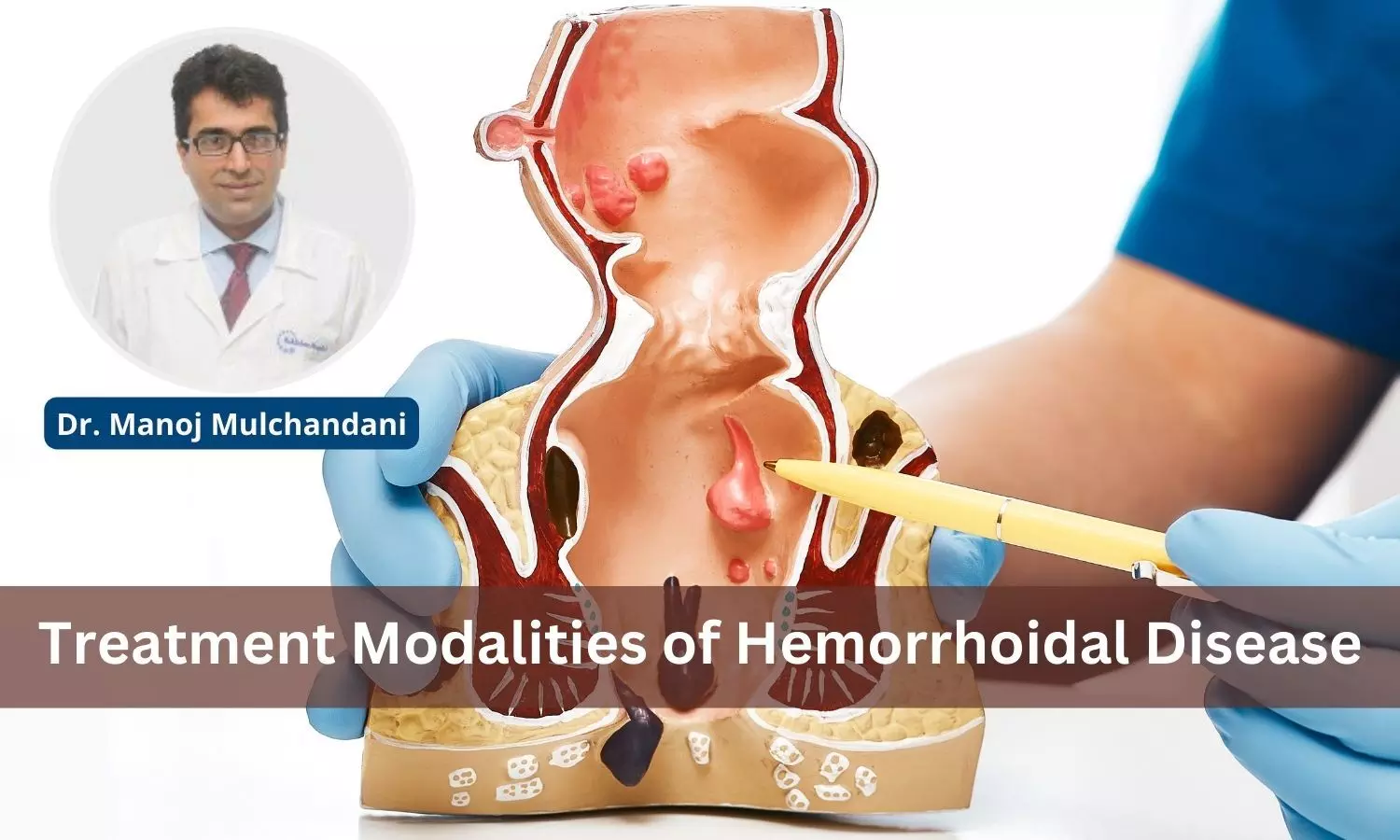 Hemorrhoidal disease (HD) is a form of an anorectal disease characterized by symptomatic enlargement and/or distal displacement of the healthy anal cushions known as hemorrhoids (1).
Alarmingly, one in every three patients reports to surgeons for treatment (2) though only 5–10% ultimately require hemorrhoidectomy (3), suggesting low awareness of the available conservative therapies. This article gives an overview of the disease entity, its pathophysiology, and its symptoms while elaborating on the current treatment approaches.
Classification of Hemorrhoidal Disease (HD)

Hemorrhoids can either be external or internal. Internal hemorrhoids are divided further into the following grades: (2)
Grade I — Hemorrhoids bleed and may protrude into, but do not prolapse out of, the anal canal.
Grade II — Hemorrhoids prolapse on defecation but reduce spontaneously.
Grade III — Hemorrhoids require manual reduction.
Grade IV — Hemorrhoids cannot be reduced. They are permanently prolapsed.
Symptoms of Hemorrhoidal Disease (HD)
While painless rectal bleeding during or soon after defecation is a hallmark feature of HD; recurrent bleeding may develop in cases of secondary HD. (1)
Acute anal discomfort, common in HD, is due to associated acute edema and thrombosis of external hemorrhoids (TEH).
Other symptoms include rectal swelling, prolapse, soiling, perianal skin irritation, itching, and discomfort.
Persistent pain, if present, suggests the existence of concurrent diseases (like fissures, abscesses, pudendal neuropathy, proctalgia fugax, and anorectal neoplasm). (1)
Accurate diagnosis is based on a thorough examination of the anus and anal canal, and it is essential to exclude more serious causes of bleeding, like rectal cancer. (2)
Managing Hemorrhoidal Disease: Look Into Current Therapies
The purpose of conservative therapies is to control symptoms rather than rectify causative pathophysiological abnormalities. A balanced diet with appropriate fiber and oral fluid consumption may improve stool consistency and is one of the key goals of conservative therapy for HD. (1) Stimulant laxatives or osmotic agents are considered adequate for treating HD symptoms, with consistent outcomes across studies, lowering the risk of bleeding and persistent symptoms. (4)
Surgical Management
Rubber band ligation, sclerotherapy, infrared photocoagulation, cryotherapy, manual anal dilatation, LASER hemorrhoidectomy, harmonic ultrasonic scalpel hemorrhoidectomy, Doppler-guided hemorrhoidal artery ligation, are procedures that are indicated for first- and second-degree hemorrhoids and are usually carried out on an outpatient basis. (2)
Operative hemorrhoidectomies, including the clamp and cautery hemorrhoidectomy, open hemorrhoidectomy, closed hemorrhoidectomy, submucosal hemorrhoidectomy, radiofrequency ablation, suture fixation hemorrhoidectomy, pile suture' method, bipolar diathermy hemorrhoidectomy, are reserved for patients suffering from third- and fourth-degree hemorrhoids. (2)
Though regarded as a mainstay approach in managing HD when conservative therapies fail (5), surgery is frequently accompanied by substantial postoperative complications such as discomfort, bleeding, and anal stricture, which can result in a lengthy recovery period. (2)
Pharmacological Therapy
In most patients, the prolapse is not severe enough to necessitate surgery or an outpatient procedure; hence conservative treatment is an essential initial option in HD management. (3)
Research along these lines reveals that micronized purified flavonoid fraction (MPFF), which is composed of micronized diosmin (90%) and additional active flavonoids (hesperidin, diosmetin, linarin, and isorhoifolin; 10%), has demonstrated clinical effectiveness in the treatment of chronic venous illness and HD.(3)
Studies also highlight that each flavonoid in MPFF works synergistically to provide an enhanced pharmacological effect; thus, improving lymphatic drainage, increasing venous tone, scavenging free radicals, decreasing capillary permeability (edema), reducing blood viscosity and/or erythrocyte aggregation. It also acts on the inflammatory processes in veins by reducing neutrophil and monocyte expression of adhesion molecules. (3)
How does MPFF act: Decoding its Unique Mechanism of Action
MPFF, a flavonoid-based venoactive preparation for oral use, has significant anti-inflammatory, antioxidant and venoprotective actions, which form the basis of its beneficial clinical effects in HD. (3)
MPFF has oxygen radical scavenging activity, reduces histamine-, bradykinin-, and leukotriene B4-induced ischemia, reduces the production of prostaglandins and inflammatory mediators (such as prostaglandin E2, prostaglandin F2, and thromboxane B2), protects endothelial cells from lipid peroxidation. By modifying noradrenergic signaling and lowering norepinephrine metabolism, MPFF enhances lymphatic drainage and venous tone. It also significantly reduces capillary hyper-permeability and improves capillary resistance in patients with abnormal capillary fragility, further improving microcirculation. (3)
Clinical efficacy of MPFF: Quoting studies supporting MPFF in managing HD:
Benefits Acute Episodes of Hemorrhoidal Disease: Godeberge et al, assessed the effectiveness of MPFF compared with a placebo in 120 patients with an acute episode of hemorrhoids and found that a dose of 1000 mg/day for 60 days had significant benefits. They elaborated that acute HD episodes in the MPFF group were less frequent, shorter, and milder (p < 0.01). (3)
Improves Anatomic Lesions Hemorrhoidal Disease: In another study in patients with acute HD, MPFF (3000 mg/day for the first 4 days and 2000 mg/day for the next 3 days) was associated with significantly greater improvements in the anatomic lesions between baseline and day 7 versus placebo (p < 0.001) [3]. Moreover, the duration and intensity of the current episode compared with previous episodes were lower with MPFF. Three times more patients in the MPFF group (77.5 vs. 24.5% for placebo) considered the duration of the current attack to be shorter, and twice as many (89.8 vs. 38.8%) considered the recent attack to be less intense. Moreover, the signs and symptoms of anal bleeding, anal discomfort, pain, and anal discharge in the MPFF group improved significantly more than in the placebo group, beginning from day 2 onwards. (3)
Reduces Relapse Bleeding in Hemorrhoidal Disease: MPFF can decrease the incidence of relapse bleeding after an acute attack. In a randomized, double-blind study, treatment with MPFF was compared with a placebo in 100 outpatients with acute internal HD of fewer than 3 days. Patients were randomized to receive MPFF (n = 50; 3000 mg/day for 3 days, followed by 2000 mg/day for 4 days) or placebo (n = 50). After 3 days of treatment, acute bleeding had stopped in more patients who received MPFF (80%). (3)
Relieve Clinical Symptoms of Hemorrhoidal Disease: Research confirms that venoactive has a statistically significant effect on HD-related symptoms (bleeding, pain, itching, and symptoms recurrence) if compared with a control group. (6,7) A meta-analysis of 14 trials and 1514 patients found that using flavonoids reduces the risk of worsening or persisting symptoms by 58% [relative risk (RR) 0.42 (95% CI 0.28-0.61)] and showed an apparent reduction in the risk of bleeding [RR 0.33 (95% CI 0.19-0.57)], persistent pain [RR 0.35 (95% CI 0.18-0.69)], itching [RR 0.65 (95% CI 0.44-0.97).(1)
Benefits of Adding MPFF to Topical Treatment: A recent study demonstrated that adding MPFF to topical hemorrhoid treatment was associated with improved bleeding and health-related quality of life in patients with acute hemorrhoids. Patients were randomized to receive MPFF (n = 43; 3000 mg/day for 4 days, followed by 2000 mg/day for 3 days) in combination with topical anti-hemorrhoidal treatment or topical treatment alone (n = 45). Two weeks after the end of treatment, the bleeding rate was significantly improved in the combination treatment group versus the topical-only group (p = 0.045). (3)
Use of MPFF – Glance at the Guidelines:
The American Gastroenterological Association accepts MPFF as standard pharmacological therapy, claiming its effectiveness in lowering HD symptoms and indications. MPFF (1000-2000 mg/day) is recommended by the French National Society of Coloproctology as a short-term therapy for the symptoms of IHs (pain, prolapse, and bleeding; grade B recommendation).
The Association of Colon & Rectal Surgeons of India (ACRSI) supports MPFF as first-line therapy for grade I-II hemorrhoids. It can also be opted for some selected/minor grade III hemorrhoids in modern-day clinical practice. The recommended MPFF dosage for acute bleeding is 3000 mg/day for 4 days, followed by 2000 mg/day. (3)
Practice Pointers
Hemorrhoidal disease is prevalent in adults. Although more invasive treatments may be necessary, there are clinical opportunities for using conservative approaches.
Micronized purified flavonoid fraction (MPFF) and other venoactive medicines are now widely utilized in HD.
MPFF can help with acute HD symptoms such as bleeding, pain, anal discomfort, anal discharge, and itching. Moreover, postoperative adjunct MPFF reliably lowers pain, bleeding length, and analgesia usage in surgery patients.
MPFF shortens the length of hospital stay after surgery, allowing patients to resume regular activities and improve their quality of life.
Research confirms that MPFF therapy is suitable and adequate for first-line conservative treatment and postoperative adjuvant therapy.
This World Piles Day, Let's Vouch To Strike the Core of Hemorrhoidal Disease. To get more information about Piles/ Hemorrhoids, from Diagnosis to Management, click on the link below.
https://medicaldialogues.in/world-piles-day
References
1. Gallo, G., Martellucci, J., Sturiale, A. E., Clerico, G., Milito, G., Marino, F., ... & Trompetto, M. (2020). Consensus statement of the Italian society of colorectal surgery (SICCR): management and treatment of hemorrhoidal disease. Techniques in coloproctology, 24(2), 145-164.
2. Agbo, S. P. (2011). Surgical management of hemorrhoids. Journal of surgical technique and case report, 3(2), 68.
3. Godeberge, P., Sheikh, P., Lohsiriwat, V., Jalife, A., & Shelygin, Y. (2021). Micronized purified flavonoid fraction in the treatment of hemorrhoidal disease. Journal of Comparative Effectiveness Research, 10(10), 801-813.
4. Alonso-Coello P, Guyatt G, Heels-Ansdell D, et al. (2005) Laxatives for treating hemorrhoids. Cochrane Database Syst Rev 19:CD004649
5. Pata F, Gallo G, Pellino G, Vigorita V, Podda M, Di Saverio S, D'Ambrosio G and Sammarco G (2021) Evolution of Surgical Management of Hemorrhoidal Disease: An Historical Overview. Front. Surg. 8:727059. doi: 10.3389/fsurg.2021.727059
6. Perera N, Liolitsa D, Type S et al (2012) Phlebotonics for hemorrhoids. Cochrane Database Syst Rev 15:CD004322
7. Aziz Z, Huin WK, Badrul Hisham MD, Tang WL, Yaacob S (2018) Efficacy and tolerability of micronized purified flavonoid fractions (MPFF) for hemorrhoids: A systematic review and meta-analysis. Complement Ther Med 39:49–55