Tamil Nadu Govt Doctors go on indefinite strike demanding salary hike, promotion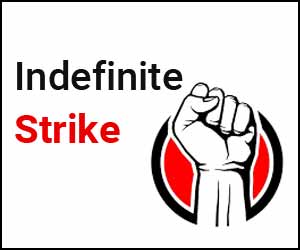 Chennai: Around 17,000 government doctors under the aegis of Tamil Nadu Government Doctors Association, went on an indefinite strike on October 25 demanding time-bound promotion for government doctors and teaching faculty in the state
The doctors participating in the strike signed attendance forms and took turns to stand with the protesting doctors' group. Emergency departments, ICUs and fever wards were fully functional and services remained unaffected.
A few days ago, the doctors had threatened to stop work as well as teaching till their demands including time-bound promotion for government doctors and teaching faculty, uniformity in salary and promotion as per the Dynamic Assured Career Progression (DACP) norms. The matter concerned disparity in the pay scale of the sate's government doctors which had been put forward by the Association for the last three years.
Also Read: Demand for Dynamic Assured Career Progression: Tamil Nadu Govt Doctors threaten indefinite strike
The doctors are demanding proper implementation of the DACP scheme with pay band-4 at the end of 13 years of service, maintenance of doctors' posts in accordance with the number of patients, 50% service quota in PG medical admissions and counselling for PG postings.
Last year, the doctors had boycotted outpatient services demanding time-bound promotions and salaries on par with their counterparts in other States and at the Centre.
Read Also: Tamil Nadu: 18,000 Govt doctors on OPD BOYCOTT over salary, promotions
This July, government doctors in Tamil Nadu protested against the state government, demanding the implementation of DACP.
Read Also: Tamil Nadu: Government doctors go on hunger strike over poor pay; to boycott OPD services on July 18
Pointing out their dilemma, the association had described that the salary for doctors in the state and central services is the same when they join duty, but doctors in central government services receive promotions in four, nine, 13 and 20 years, compared to eight, 15, 17 and 20 years in the state government.
Doctors in government service also get a salary that is lower than lecturers or professors at arts/science colleges, although government doctors work for at least 50 hours a week compared to 32 hours of the teaching faculty.
Earlier this month, in a letter to the Health Secretary, the association noted that the government had agreed to "favourably solve" the demands in six weeks. With the issue not being resolved by the government, the doctors recently once again resorted to strike.
Recently, doctors in various parts of the state were a participant to this indefinite strike including those from Tirunelveli Medical College Hospital, Tuticorin medical college hospital. Assistance Professors from Kilpauk Medical College took breaks to join the strike. As per ProKerala report, a whooping 17000 doctors participated in the strike.
The doctors were seen protesting outside the Rajiv Gandhi Government Hospital.
As per the State Treasurer of Service Doctors and Postgraduates Association (SDPGA) Dr T Aruleeswaran, more doctors joined the strike as many as 550 PG doctors. Government Rajaji Hospital (GRH) have been boycotting classes since Thursday. GRH has further decided a full 48-hour strike on October 30.
Doctors on strike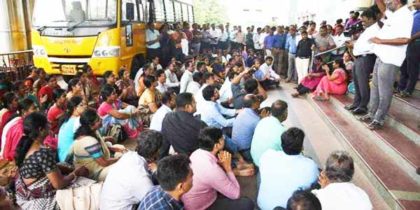 Health secretary Beela Rajesh held talks with the striking doctors, however, it remained inconclusive. As per a recent media report in TOI, DMK president M K Stalin demanded that chief minister Edappadi K Palaniswami hold talks with striking Government Hospital Doctors. "Doctors must withdraw their strike, hold talks with Chief Minister and see that their demands are accepted by the government, " Stalin added.