................................ Advertisement ................................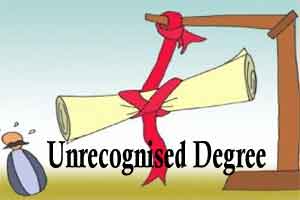 Chennai: Through a recent action, Tamil Nadu Medical Council (TN Medical Council) has cancelled the Post-graduate degrees of 51 practising doctors after finding them in violation of the MCI rules relating to valid PG degrees. The action comes in relation to three different cases that had come before the General Body Meeting before the council held recently
One of the cases seeling action from the state medical council was regarding an MBBS doctor holding a fake degree in surgery and practising as a specialist surgeon in the state. Dr. P Shankar, a surgeon in Vellore had bought the PG degree through a broker for a consideration of Rs 6 lakh.
Dr K Senthil, President of TN Medical Council informed Medical Dialogues that "Dr P Shankar has the fake degree from a random college in Pune affiliated to the University of Seychelles- American Institute of Medicine. The council concluded its decision by imposing fine of Rs 10,000 on him added by the cancellation of the license."
Medical Dialogues had earlier reported that Dr P Shankar had confessed before the state medical council that he had bought the PG certificate by paying Rs 6 lakh. During his post-graduation medical course, he hadn't attended any training. He just wrote an examination and received the certificate right away.
Read also: PG from Seychelles: Tamil Nadu Medical Council lens on MBBS doctor for practicing as Surgeon
................................ Advertisement ................................
There are 10 more such doctors in the list, holding fake degrees from different institutions are slapped with the notice, Senthil added. Two medical practitioners were caught practising with fake diplomas
" Two doctors, Rajesh Tilak and Dr Jasmine Tilak who are residents of Tuticorin, were caught having fake medical degrees owned from a university overseas. They drafted an apology for their act. The council imposed fine of Rs 10,000 with a censure. They are under the observation of the council for the next 5 years," Dr Senthil said.
"It was an incidental finding. There was an alleged case of medical negligence against these two doctors.  During the process of interrogation, the council came to know about their fake degrees."
The meeting saw council members also taking a call on the PG degrees 48 doctors who had received their PG degrees in Emergency Medicine from various institutes in Tamil Nadu
The complaint filed with the state medical council by the Emergency medical association revealed that 48 out of the 59 emergency medicine specialist doctors were registered with the state's council while holding unrecognized postgraduate degrees in emergency medicine.
Medical Dialogues earlier reported that the degrees these doctors hold are from Vinayaka Mission Medical College and Sree Ramachandra Medical College and Research Institute, but date to a period before the said institutes had MCI recognition for the course. Moreover, 20 of these 48 are from before 2009, the year emergency medicine got recognized as a postgraduate speciality in India by MCI.
Read also: Tamil Nadu: Medical Council moves to cancel degrees of 37 Emergency medicine Specialists
The council issued a warning for misleading the council accompanied by the removal of their PG degree from the state medical register. " They can MBBS doctors, but not as specialists. They will also have give up any desginations that they are holding based on the cancelled degrees" Dr Senthil added
Shagufta Joined Medical Dialogues has been associated as Editor for Education Medical Dialogues since the year 2018.  She is a graduate from Delhi University. She can be contacted at editorial@medicaldialogues.in Contact no. 011-43720751
................................ Advertisement ................................
6 comment(s) on Tamil Nadu Medical Council : 51 Doctors lose their PG degrees in three different cases