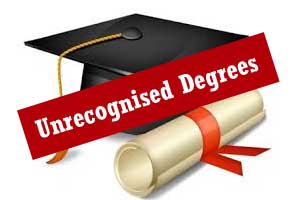 Chennai:A Vellore-based MBBS doctor, who has been practising as a surgeon in the area is now currently under the radar of Tamil Nadu Medical Council (TNMC) for holding an unrecognized post-graduate degree in surgery.
The doctor in question, identified as one Dr P Shankar confessed to the state medical council that he had bought the PG certificate by paying Rs 6 lakh. During his post-graduation medical course, he hadn't attended any training. He just wrote an examination and received the certificate right away.
According to a confirmation made by the Tamil Nadu Medical Council's President Dr K Senthil, "Dr P Shankar had got the certificate by paying Rs 6 lakh through a broker in Pune. During inquiry, he told us he did not attend classes or training. He wrote an examination and was given the certificate the same day."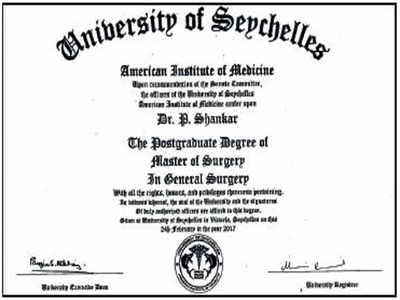 TOI reports that Dr Shankar produced a "passing certificate" dated February 26, 2017, from University of Seychelles- American Institute of Medicine. A giveaway, however, was the degree certificate he produced: It was dated two days ahead of the date on the passing certificate.
"We've asked him to stop displaying this as a PG degree. We don't know how many more are practising speciality medicine with such degrees," Dr Senthil informed the daily.
It has been confirmed by the state medical council's representatives that disciplinary action would be taken against the MBBS doctor for violation of the Tamil Nadu Code of Medical Ethics Regulation by displaying an unrecognised degree.
However, the crucial issue of unrecognized medical degrees is not new in the state. While having a conversation with TOI, Dr Senthil said that two years ago the council had pulled up some doctors who claimed to cosmetologists and diabetologists without degrees or diplomas in dermatology or endocrinology.
"We suspect there are many more," Dr Senthil added.
Moreover, cases of retaining fake degrees from the University of Seychelles- American Institute of Medicine have also been reported a few times. In 2016, the Maharashtra Medical Council (MMC) barred 21 doctors from displaying their postgraduate qualifications obtained from the Seychelles varsity terming their courses as "dubious". Some doctors, who attended week-long fellowships or training programmes in reputed universities, have displayed the course as their speciality, despite the medical council warning them against the practice, adds TOI.
Read Also: TN Medical Council Notice to 48 Doctors for holding Unrecognised PG degrees
19 comment(s) on PG from Seychelles: Tamil Nadu Medical Council lens on MBBS doctor for practicing as Surgeon