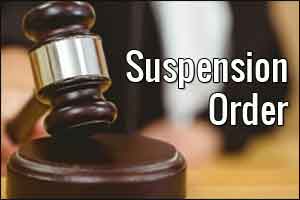 Tamil Nadu: The state medical council has pronounced suspension orders to three medical practitioners and given a stern warning to two doctors, in two different cases that had been before the council pertaining to allegations of attempt to murder and gross medical negligence respectively
The first case before the council was that of Dr Jayasudha and her son Dr Hari Prasad, both of whom are accused in the attempt to murder of her ailing father
Medical Dialogues team had earlier reported about the incident where the woman doctor, Dr Jayasudha Manoharan, along with her son Dr Hari Prasad visited her ailing father, Dr E Rajagopal, in her brother Dr R Jayaprakash's Aditya Hospital in Kilpauk, Chennai. After getting thumb impressions on certain documents, Jayasudha allegedly yanked the IV line of her ailing father. When the nurses and staff observe the blood trickling down the patient's body, they intervened, following which the accused are seen rushing out of the hospital. The entire incident was caught on CCTV camera and had gone viral on social media at that time. Her brother had filed an FIR against the culprits.
Read Also : Caught on Camera: Doctor tries to murder own father in ICU
Responding on the case, the disciplinary committee at the Tamil Nadu medical council recommended action against Coimbatore-based Dr Jayasudha Manoharan, and following the general council meeting, the doctor has been suspended for one year. The council also issued a warning to her husband Dr U Manoharan and son Dr Hari Prasad.
The second case, where the council pronounced action is on a medical negligence case.It is reported that last year, Tamil Nadu Medical Council received a complaint from the state health department, about one, Santosh Kumar, a medical student from Madras Medical college, who underwent hair transplant at the Advanced Robotic Hair Transplant Centre and passed away due to complications. It is reported that the hair transplant was performed by an MBBS doctor, Dr Vineeth Suryakumar, in the presence of an anaesthetist, Dr Hariprasad Kasturi who had allegedly left the salon in between the surgery. The salon had been sealed by the authorities following the case
Holding the two guilty for medical negligence death of the medical student, the council has barred the Dr Hariprasad Kasturi, an anaesthetist, from practice for six months, while Dr A Vineeth Suryakumar, an MBBS graduate from a Chinese university, has been barred for a year.
Speaking to Medical Dialogues team, Dr K Senthil, President, Tamil Nadu Medical Council told Medical Dialogues team," The decision pertaining to these cases had been made by the earlier office bearers but the decision was pending for the want of the final meeting of the General Council. The first meeting took place yesterday and the said decisions were ratified." Observing the delay that had come in passing the decision, the council has also passed a resolution to the effect stating the disciplinary committee can henceforth initiate action against violators after an investigation is conducted, and Not to wait for the concurrence of the entire council. A similar methodology is also followed by the Medical Council of India.
Read Also: Chennai: TN Medical Council initiates action after Medical student dies after Hair transplant
6 comment(s) on Tamil Nadu: Medical Council Suspends 3 doctors in cases of attempt to murder, negligence