Movie Menace: TN doctors boycott Vijay-starrer Mersal for projecting indian healthcare in poor light, PIL filed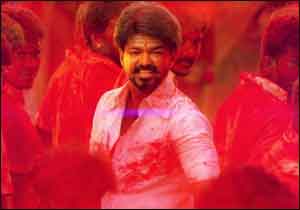 Chennai: Tamil Nadu doctors are retaliating against Vijay starrer film  'Mersal' which they feel is portraying doctors in a demeaning manner, by prescribing piracy.
The Indian Medical Association, doctors have been sharing the movie links on a pirated website through social media and pushing fellow professionals and paramedical staff to boycott the film or not "pay" for its theatres tickets. President, Indian Medical Association, Tamil Nadu Dr TN Ravishankar has described this act of the IMA, as a silent protest on their part.
"We decided not to approach the media or court for relief. We will only be giving more publicity for the movie. Instead, if we spread the movie links on WebPages, it will hit their collections. I hope they will realize then," he added.
Explaining how the movie shows doctors and the profession in poor light, Dr. Ravi Shankar said, in one of the scenes of the film, Vijay is heard saying people go to private hospitals because government hospitals fail to offer good services. "He also says we use this profession only to make money," Dr Ravishankar added.
The association has sought support from local chapters of other organizations, including the Association of Physicians of India, Federation of Obstetrics and Gynaecology Society of India and Indian Radiologists and Imaging Association.
The message reads: "Please forward to as many doctors and create a silent protest movement from the medical fraternity -- IMA Tamil Nadu," reports TOI.
PIL filed
Legal newsportal
 barandbench.com
 reports that a PIL has been filed in the Madras High Court against the movie and in particular its scene which shows the protagonist praising the cost and accessibility of medical healthcare facilities in Singapore relative to India.
"
It is pertinent to note about the scenes that the hero of the movie Joseph Vijay said that Singapore provides free medical facilities to their people, despite they receives 7% GST, But, India not provides the free medical facilities to the people, despite India receives 28% GST
."
Taking issue with these 
fabricated
 claims, the petitioner has contended,
"
The fact remains that India provides the free medical facilities to its citizens."
The petitioner cites examples of AIIMS and JIPMER as some of the free government hospitals in India. Further, it has been submitted that the state government also runs medical colleges, government hospitals in urban and rural areas and primary health centers, all of which serve the people free of cost