Patient Souls Trapped in Kota Hospital !!- Tantric Called to liberate them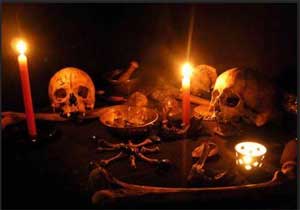 Kota: In the developing age of science and technology, its indeed sometimes shocking how people are still believing in superstitious and paranormal activity. One such of a case recently reported at the Maharao Bheem Singh (MBS) Hospital in Rajasthan's Kota District, where tantric was called to perform some "pooja" at the hospital to liberate or release the souls of the patients who died in the hospitals following their family complaints that souls of the deceased were troubling them in dreams.
As per the media reports, the deceased family claimed that they were dreaming of their dead relatives pleading to liberate them from the hospital premises.
The incident took place on Tuesday, when two separate tantric rituals were performed back to back at the main entrance of the Maharao Bheem Singh (MBS) Hospital, for an old man and a woman, who died 3 months ago and 3 years ago respectively, reported The Times of India.
When media reporters asked to the hospital authorities that why they do not stop such activities at hospital premises, Dr P K Tiwari, superintendent, MBS Hospital said that he was already informed of the ritual but didn't take any action because no rules are in place to prevent such type of activities.
He further said that to stop such pooja and ritual activities they often call the police.
The tantric performed rituals at the main gate and continued for about half an hour while onlookers along with some hospital staff continued to watch the superstitious activities. The family members while returning were contended to have liberated the wandering spirit, reports TOI
Medical Dialogues team had earlier reported a similar case in the month of April where a rooster was sacrificed, lemons quashed and black magic rituals were performed by an occult practitioner in a government hospital in a futile bid to bring a dead man back, after which the administration has ordered a probe.
The incident occurred in the Intensive Care Unit (ICU) of New Medical College hospital where a tantric (occult practitioner) performed various rituals for around four hours in the presence of medical staff of the hospital.
Read also: Bizzarre: Tantric comes and performs rituals in ICU, Hospital orders probe
Read also: 
Shall Astrologers DIAGNOSE patients in Madhya Pradesh?