Tata Trusts, Maharashtra govt ink MoUs on community development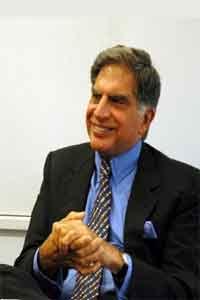 Maharashtra government and Tata Trusts signed multiple Memorandum of Understandings (MoUs) to work together to improve community developmental indicators, including healthcare and education, for the state.

"We are pleased to partner with the government of Maharashtra to realise our common vision of community development," Tata Trusts chairman Ratan Tata said, adding community well-being can be achieved through focused, innovative and relevant on-ground interventions.

The event was held at Vidhan Bhawan, where the budget session of state Legislature is underway, in the presence of Maharashtra Chief Minister Devendra Fadnavis.

After the event, Tata watched the proceedings from the visitors' gallery as Fadnavis made a statement in the Assembly under Rule 47 of the House, informing the legislators of the signing of MoUs.

According to the agreement, Tata Trusts will make available for free various facilities in areas of governance, data management, healthcare and nutrition, literacy and welfare initiatives and programmes, Fadnavis told the Assembly.

"Tata Trusts will play a guiding role in setting up of these initiatives and will provide strategic and technical advisory support and oversee the successful execution for all these programmes," a Tata Trusts release said.

Tata Trusts and the state government initiatives and interventions will be across several areas, specially healthcare, nutrition and fortification, governance, education and juvenile justice.

Among the projects to be implemented is a pilot demonstration of social work interventions in select central prisons of Maharashtra.

A national cancer grid will be created and government schools and colleges in Maharashtra will be included in it, Fadnavis said.

Maharashtra will be the first state in the country to set up a bone marrow registry through government machinery, he further said.

In the next three years, 50,000 bone marrow donors will be selected through this grid.

"I am confident that our partnership with Tata Trusts will be the beginning of a new era of cooperation between this renowned philanthropic organisation and the government to improve socio-economic indicators of the state," Fadnavis said.

"We should leverage our strength to promote more fruitful cooperation in key areas such as nutrition, governance, data management, healthcare, education, and literacy to reinforce welfare initiatives and programmes," the CM said.

Under the aegis of Public Health Department (PHD) and Directorate of Medical Education and Research (DMER), which regulates government colleges in the state, a Strategic Healthcare Advisory Unit (SHAU) will be set up to implement technology-backed interventions that improve health and nutrition outcomes, which may also include developing hospital information systems (HIS) and a 'Medical Supply Corporation'.

In order to address other micronutrient (iodine, iron, etc) related deficiencies and anaemia, Tata Trusts will work with the state government to design a micronutrient deficiency prevention program and control strategy with a special emphasis on food fortification, the Tata Trusts release said.

In collaboration with the Food Civil Supplies & Consumer Protection Department, Tata Trusts will focus on arresting malnutrition-related indicators through fortification of staple foods that will also strengthen the country's Public Distribution System (PDS).

The Planning Department and the Tata Trusts will enter into a partnership on data driven governance to design and implement a model data platform that will bring together information related to select indicators and flagship schemes and analyse digital data across several departments.

This is envisaged to improve the application of data in planning, implementation and better targeting of government programmes as a significant step towards realising the vision of 'Digital India'.

The Home Department and Tata Trusts, with support from other civil society partners, will implement a pilot demonstration of social work interventions in select central prisons of Maharashtra.

This pilot demonstration will include provision of legal aid, health and mental health services as well as opportunities for training and skill upgradation within the prison system itself.