Tel govt seeks Central funds for KCR Kits scheme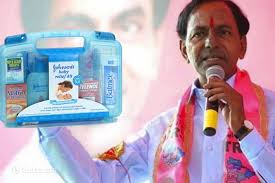 Hyderabad: The Telangana government sought funds for its 'KCR kits' scheme under the Pradhan Mantri Matritva Yojana--the maternity benefit programme of the Centre.
State Health Minister C Laxma Reddy made a request to the effect during a meeting with Union Health Secretary Preeti Sudan here, a state government release said.
The state government provides items like baby shampoo and soap in a kit to women who come to government hospitals for delivery.
The minister also sought more mobile food safety vehicles. One such vehicle was launched yesterday, he told the Central official.
She responded positively to the requests, the release added.