The HITLAB World Cup 2017: A place for Startups in Healthcare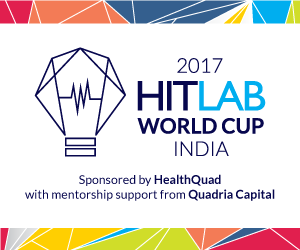 Innovators with original solutions to healthcare challenges are invited to enter the 2017 HITLAB World Cup: India, a high-profile showcase for original health tech solutions. Finalists will have the opportunity to present their inventions at the influential 2017 HITLAB Innovators Summit: India and win up to USD 150,000 (INR 1 crore) in funding.
"We're honored to announce that Boston Scientific is the Visionary Sponsor for the 2017 HITLAB Innovators Summit: India, in compliance with its policies, and that Healthquad will sponsor the 2017 HITLAB World Cup: India, with mentorship support from Quadria Capital. Thanks to their generosity, our forum for innovators can expand its reach and impact significantly," said Devmalya Sarkar, M.S., summit director at HITLAB®, organizer of the event.
Sarkar added, "Our HITLAB World Cup: India enables those with foresight and ability to effect real, empathetic change in healthcare, not only in India, but also in South Asia and throughout the world. Previous HITLAB World Cup competitions have launched outstanding innovations that went on to improve healthcare in numerous, diverse environments."
"The 2017 HITLAB Innovators Summit: India provides a great opportunity to access the local innovation ecosystem so that we can work together to solve the unmet needs of local and emerging markets," said Biten Kathrani, director, R&D & NBD, Asia, Middle East, and Africa (AMEA) at Boston Scientific. "Digital health platforms provide a great opportunity to help us address the growing burden of healthcare around the world and reach underserved patient populations through meaningful innovation that makes healthcare delivery more patient-centric. I wish this Innovators Summit great success and look forward to seeing the creative solutions that will be presented."
Healthquad's director, Dr. Amit Varma, said, "Our objective is to support transformative Indian healthcare companies across delivery services and products that, we think, will dramatically increase healthcare productivity, affordability, and accessibility while improving patient health and fostering innovation."
Dr. Varma continued, "We're excited to support the 2017 HITLAB World Cup: India, which provides a dedicated platform for healthcare innovations and provides us an opportunity to partner and nurture new age or disruptive models in the sector."
Innovators across India are invited to submit original technology-based concepts to improve healthcare access, delivery, and outcomes. HITLAB will accept entries through February 3, 2017.
Experts will select the most promising submissions. The top five finalists will be announced at the 2017 HITLAB Innovators Summit: India on February 16, then make their presentations the next day, February 17, after which the winner will be announced.
The Summit will take place at the Indian Institute of Technology, Delhi and will also feature talks, panels, and networking opportunities focused on 'EMPATHY DRIVEN DIGITAL HEALTH INNOVATION: Improving Health Outcomes by Understanding the Needs of the End-User.' Speakers include thought leaders such as Professor Balram Bhargava, professor of cardiology, Cardiothoracic Sciences Centre and executive director, School of International Biodesign, All India Institute of Medical Sciences; Ron Lancaster, director, corporate research at Boston Scientific; Professor Supten Sarbadhikari, project director at Centre for Health Informatics of the National Health Portal; Dr. Jitendar Sharma, advisor (health), Government of Andhra Pradesh and CEO, Andhra Pradesh MedTech Zone (AMTZ), India; Biten Kathrani, director, R&D & NBD, Asia, Middle East, and Africa (AMEA) at Boston Scientific; Dr. Amit Varma, director, Healthquad; and many others.