Kerala: Thiruvananthapuram Medical College on indefinite strike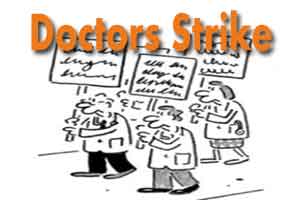 Kerala: The postgraduate doctors at the Thiruvananthapuram Medical College are holding their protest against the alleged assault of a resident doctor at its premise.
Reportedly, the doctors are very upset over the alleged assault and have threatened to go a indefinite strike demanding action on the case.
A resident doctor from the surgery department has been allegedly assaulted by the staff of the cardiology department.
The PG doctors are now demanding an action by the authorities against the two persons who assaulted the doctors. If the strike continues for many days it is highly probable that the college will be attending only to the patients in causality, ICU, and other essential services. The protest may also spread to other medical colleges in the state. As a result, the authorities at the college is expected to do something quick to resolve the issue. 
As reported by Express, the PG doctors under the banner of Kerala Medical Postgraduates Association (KMPGA) will only be attending to casualty, ICU and other essential services. KMPGA president Dr Antony Stanley said that they had called the indefinite strike as the authorities had not taken any action against the two persons who assaulted the doctor.
"We have complained to the authorities but no action has been taken till now. If no action is taken at the earliest, the association will be bound to take the strike across all the medical colleges in the state,'' he said.