TN: 3 scan centres sealed for performing sex determination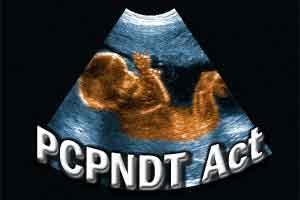 Namakkal: Three centres at the Namakkal district of Tamil Nadu have been sealed, after authorities caught practitioners performing Sex Determination in a sting operation.
On Monday, a team of investigators, including health department officials, senior doctors and police booked cases against Dr K Kannagi from Kumaran Polyclinic, Dr Kala Devi from Sri Scan Centre and Dr Meghala from Ganga Hospital on account of sex determination.
As consequence of the blatant violation of the Pre-Conception and Pre-Natal Diagnostic Techniques (PCPNDT) Act, 1994, which prohibits sex determination, police seized  the ultrasound machines and sealed the three scan centres.
This came after a sting operation was performed by the authorities where the modus operandi involved three pregnant women deployed as decoys by the directorate of medical and rural health services (DMS), who underwent the ultrasonography test at the said clinics.
"The doctors at the clinics accepted money and scanned the women, but made no entries in the register. They did not give certificates to patients and deleted images from the scanning machines. The money we sent through the decoys were in their cash box," Tiruvallur joint director D Mohanan, who was part of the investigative team informed.
"Experts in our team pulled out the log from the ultrasound machines. One centre had collected an additional 500 because the foetus was male," he said.  It is reported that on an average these clinics were performing 100 scans per week, catering to the neighbouring areas
TOI further reports that on Tuesday, the authorities also filed a case against Dr Viramani of Viram Hospitals  on account of the fact that the said hospital did not maintain medical records under the relevant provisions of the Act.
According to statistics given by the state's Health Management Information System (HMIS), the sex ratio in Namakkal currently has dipped to  835 girls per 1,000 boys ( 2016-17), whereas in 2014-2015 it was 868 girls per 1,000 boys. This worrying trend has alerted policy makers and activists, giving rise to the need for stricter vigilance under the act.
"Many people were travelling from faraway places for sex determination. They would then undergo abortion in the same clinic or go to a quack. Sometimes, they would pop in a pill. Whenever doctors at government hospitals received pregnant women complaining of abnormal bleeding, they would alert our team. We gathered information about many such clinics," said director of medical services Dr N
Senguttuvan.