TN: More than 23 doctors booked under PC-PNDT Act in a year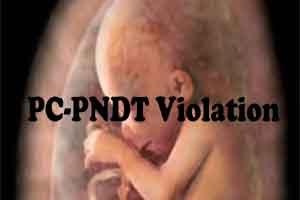 Tamil Nadu: A recent revelation made by the Tamil Nadu Medical Council shows that more than 23 doctors have been booked under various violations of the PC-PNDT act in the past three years including ones of sex determination and sex selective abortions.
The violations of the Act range from simple recording errors to graver ones of sex Selective abortions. "This February we booked four cases. While most doctors were booked for poor record keeping, some doctors were booked for more serious offences such as illegal abortions," said director of medical services S Mani to TOI.
The state medical Council is reported to have debarred one of the doctors. The case relates to one Neyveli-based gynaecologist whose case had been taken up after the complaint from Directorate of Medical Services. The Dr Dr K Ramachandran of Mahalakshmi Nursing Home had been caught assisting a patient in sex selective abortions. "The woman was told that she was having a baby girl, given pills for abortion and then taken to the theatre for abortion when we caught him. We have seized equipment including ultrasound and documents. The case is being heard by a Neyveli court," said a senior official who was part of the inspection team.
As the case went to the Disciplinary committee of the state medical council, the committee has removed the doctor's name for a period of two years. If the offence is found to be repeated then the name shall be removed permanently informed the committee members.
Another case highlighted went back to last year, when doctors Dharamapuri Medical College encountered a patient who had come in with severe bleeding after a quack in the area performed MTP on her. The said MTP had been based on an ultrasound performed at GG Ultra Sound Scan in one Dr Usha had allegedly informed the patient about the sex of the foetus.
In another case, the Central Investigation team found an unregistered ultrasound machine hidden in the operation theatre of one Saravana Scan Centre.  The authorities have been specifically on the hunt for finding unregistered ultrasound machines, which itseld is  a violation of the PC-PNDT Act.
With the sex ratio repeatedly falling in the state ( 946 in 2011 to 943 in 2015), the authorities have been reported to have stepped up their efforts on the implementation of PC-PNDT Act and getting even stricter with its violations.