Tripura among states leading in voluntary blood donation: Minister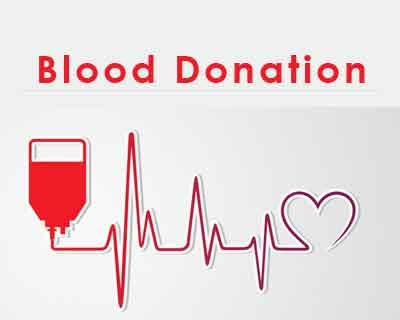 Tripura has maintained its position among Indian states leading in voluntary blood donation for eight consecutive years now, state Health Minister Badal Choudhury said.
"Of the total requirement of blood during the last financial year (2015-16), over 97 per cent was collected through voluntary donation. We have targeted to make it 100 per cent," he said while addressing a function held to mark World Blood Donor Day.
"If we use clean blood, we would be able to check contagious diseases and such efforts would also save precious lives," he said.
According to National Aids Control Organisation (NACO), only six states - Tripura, Tamil Nadu, Arunachal Pradesh, Maharashtra, Madhya Pradesh and Haryana - have the distinction of over 95 percent blood collection through voluntary donation against the national average of around 70 per cent.
In his address, Chief Minister Manik Sarkar, who has himself donated blood six times so far, said around 29,000 people including a large number of security personnel and women, have donated blood through 765 blood donation camps across the state in last fiscal.
Noting the voluntary blood donation movement became a festival in Tripura, he urged young people and women to generously donate blood to save lives.
Sarkar said that the Tripura Blood Transfusion Council has targeted to make voluntary blood donations by 35,000 people this fiscal.
"If five percent of the state's population donated blood voluntarily, then we would not only be number one state in India in voluntary blood donations, we would be able to supply blood to blood deficient states," he said.
Noting that since 2006, "around 70 pairs of eyes were deposited by voluntary donors and some of these were successfully implanted in a large number of people, who can now see the world", he said that the state wished "to become number one in the country in voluntary eye donation too".
World Blood Donor Day has been celebrated annually across the world since 2004 to celebrate the birthday anniversary of Nobel Laureate American scientist Karl Landsteiner, who discovered blood grouping in 1900.
This year's World Blood Donor Day's theme is "Blood connects us all".
According to NACO, in India, the daily requirement for blood is 39,000 units on an average. As against the annual approximate requirement of 130 lakh units of blood, the average collection provides only 90 lakh units.