Tripura get its first ever trauma centre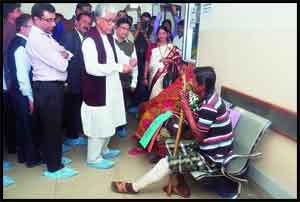 Agartala: In an aim to provide emergency care to the life-threatening injuries with specially trained health professionals, Tripura got its first ever Trauma Centre opened at Agartala Government Medical College.
"Keeping in view of the increasing rate of road accidents in the state of Tripura especially involving the two-wheelers the Trauma Centre is being opened," said the Chief Minister Manik Sarkar while inaugurating the centre.
"The government also has a plan to open another such centre covering other three districts of the state including North and Unakoti District to extended the facility of Trauma centre towards the people of remote areas of the state," Mr Sarkar said.
"A massive awareness campaign should also be entertained in restricting the road accidents which has got a sharp rise during the last two years," he added.
Besides, The state Health minister Badal Chowdhury who also remained present in the inaugural programme accepted the fact that crisis of doctors are running high in the state.
He said the AIMS Hospital has extended its helping hand with the Tripura government towards building this trauma centre. Build in an area of 1660.23 sq.mt the state's first-ever trauma centre has come up with the financial assistance of North Eastern Council and contribution from the state's budget.
The trauma centre with a high standard of Trauma care to the patients with a full range of specialist services and equipment available for 24 hours, shall have 7 resident doctors, 9 nursing staff and 27 support staff.