Two doctors face suspension for advertisements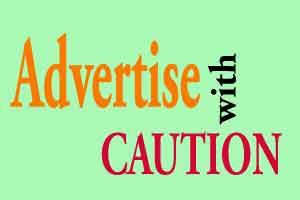 Maharashtra: Two medical practitioners in the state are facing strong action by the governing body, Maharashtra Medical Council on the grounds of putting up advertisements and hence soliciting patients.
Both doctors specialize in the field of IVF and had been reported to have issued repeated warnings by the council against advertisements and violation of Medical Code of Ethics. However, when they put up advertisements again despite warnings and consequent apologies, the MMC decided to take tough action against them. In a first the Maharashtra Medical Council has ordered the suspension of the two concerned doctors for a period of three months
"This is the first time the council suspended two doctors for putting up advertisements. These two claimed guarantee of treatment and offered to return money to patients if they don't not got the results," Dr Ravi Wankhedkar, executive committee member, MMC, told
DNA
.
"Medical Council of India's code of ethics suggests doctors can't advertise. We issued warning letters to them earlier, after which they gave an apology letter," said Wankhedkar.
"No doctor can make high claims about any procedure. As per Indian Medical Council (Professional Conduct, Etiquette and Ethics) Regulations, 2002, doctors cannot solicit patients directly or indirectly," added Wankhedkar.
This is not the first time that MMC has taken action action against advertisements by medical professionals. Last September, MMC issued show-cause notices to 40 doctors for putting up advertisements on print, TV and social media, reports DNA
What the Act Says
Section 6.1 of the Indian Medical ( Professional Conduct, Etiquette and Ethics) Regulations, 2002 deal with the concerned section on on advertisements by Practitioners. It clearly states:-
A physician shall not aid or abet or commit any of the following acts which shall be construed as unethical -
6.1 Advertising:

6
.1.1 Soliciting of patients directly or indirectly, by a physician, by a group of physicians or by institutions or organisations is unethical. A physician shall not make use of him / her (or his / her name) as subject of any form or manner of advertising or publicity through any mode either alone or in conjunction with others which is of such a character as to invite attention to him or to his professional position, skill, qualification, achievements, attainments, specialities, appointments, associations, affiliations or honours and/or of such character as would ordinarily result in his self aggrandizement. A physician shall not give to any person, whether for compensation or otherwise, any approval, recommendation, endorsement, certificate, report or statement with respect of any drug, medicine, nostrum remedy, surgical, or therapeutic article, apparatus or appliance or any commercial product or article with respect of any property, quality or use thereof or any test, demonstration or trial thereof, for use in connection with his name, signature, or photograph in any form or manner of advertising through any mode nor shall he boast of cases, operations, cures or remedies or permit the publication of report thereof through any mode. A medical practitioner is however permitted to make a formal announcement in press regarding the following:


On starting practice.


On change of type of practice.


On changing address.


On temporary absence from duty.


On resumption of another practice.


On succeeding to another practice.


Public declaration of charges.


6.1.2 Printing of self photograph, or any such material of publicity in the letter head or on sign board of the consulting room or any such clinical establishment shall be regarded as acts of self advertisement and unethical conduct on the part of the physician. However, printing of sketches, diagrams, picture of human system shall not be treated as unethical.