Unfortunate Accident : Delhi Doctor's Car Hits 3 women, one dead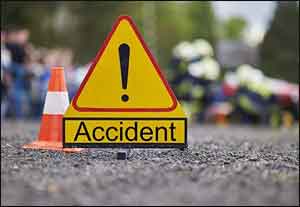 New Delhi: One female pedestrian was dead and two other were badly injured after a speeding car of a Delhi based consultant doctor hit the three while they were crossing Rani Jhansi Road flyover in Central Delhi.
The three victims were identified as factory workers in Sadar Bazar who were returning home from the work.  A deceased woman was 55-year old lady worked at thread making unit in Sadar Bazar.
According to media reports, the accused has been identified as 47-year old consultant who works at Sir
Ganga Ram Hospital
. After the accident happened, the accused doctor allegedly drove away from the accident spot but was nabbed a few meters away after which he was booked and arrested for negligence and rash driving.
In his defence, the accused doctor told the
Hindustan Times
 "I stopped at the first opportunity. A motorcyclist, too, had caught up with me by then and the police also reached the spot. I wasn't trying to escape."
The doctor informed that he was neither drunk nor doing a rash driving. His medical examination confirmed that he was not drunk when the accident took place
He further told the HT "The women suddenly crossed over the road divider and were in front of my car. I couldn't have stopped even if I wanted to. I wasn't speeding. I am very sorry about the death of one of them."
The doctor added that he could not offer place for the victims to cross because of the busy traffic.
"The women appeared on the road just after the car ahead of me was past that spot. There was no chance to apply the brakes," he said.
Informing about the matter a senior investigation officer said, "There is no traffic junction or pedestrian crossing at the accident spot, but we will continue to probe the circumstances that led to the accident."
One of the three victims of the accident reports HT, "We had walked across one carriageway and had crossed the road divider when a speeding silver car hit us,"
Read Also: Pedestrian dies in Road Accident, RML Anaesthetist arrested