Unfortunate: Baby given date for heart surgery in 2024 by AIIMS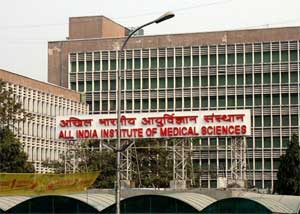 They asked us to deposit Rs 57,000 but gave us a date for surgery in February 2024, citing long waiting period. We cannot wait for so long as our daughter is in a lot of pain- Ajay Kumar 
New Delhi: Three-month-old Nancy, who was given a date for heart surgery in February 2024 by the AIIMS, will now undergo an operation next week at a private hospital after her parents approached the Heart Care Foundation of India (HCFI) for help.
Nancy has a hole in her heart and required an urgent surgery, a senior HCFI official said.
According to her father, Ajay Kumar, a resident of Faridabad, the baby had a cough and breathing problems following which she was admitted at Safdarjung hospital where she was diagnosed with large VSD with severe pulmonary artery hypertension.
Safdarjung authorities advised Nancy's family to take her to AIIMS for surgery following which they visited the premier hospital mid-October.
She underwent several tests which confirmed she that had a hole in her heart and the doctors at AIIMS said that she needed to undergo a surgery for the same.
"They asked us to deposit Rs 57,000 but gave us a date for surgery in February 2024, citing long waiting period. We cannot wait for so long as our daughter is in a lot of pain," Kumar alleged.
The family then approached the Heart Care Foundation of India, a registered charitable trust, for help.
The HCFI team of experts examined the child and decided that she needed immediate surgery.
"We wrote to the AIIMS administration requesting them to expedite the process and give an early date but there was no response. Despite writing several times, the administration did not take any action following which we approached Medanta hospital. The management has agreed to admit the patient and conduct the surgery," Yogesh Pant, a project manager at HCFI, said.
The surgery would be funded under the HCFI's initiative Sameer Malik Heart Care Foundation Fund, which assists financially weak people requiring heart surgery.
"We had lost all hope when AIIMS gave us a date in 2024 but it was then the HCFI came to our help. We hope that the surgery takes places soon and our daughter becomes fine," said Kumar, a driver by profession.