................................ Advertisement ................................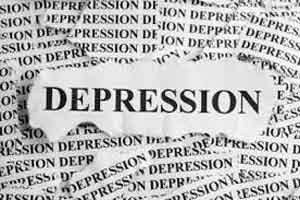 New Delhi: A post describing "depression as a state of low mood" on the official twitter handle of the Health Ministry accompanied by a digital poster listing out activities to cope with it was slammed by Twitter users for "trivialising" the issue as some users termed the definition as "highly inaccurate".
A tweet posted on June 26 by the @MoHFW_INDIA, the official twitter handle of Ministry of Health and Family Welfare, read, Depression is a state of low mood that affects a person's thought, behaviour, feeling & sense of well-being. One must take up activities that keep him or her boosted in order to cope with depression (sic).
It also posted a poster listing out activities such as following a routine like eating fruits, staying clean, going for walks, practising yoga, taking multi-vitamins, travelling and thinking positive.
#Depression is a state of low mood that affects a person's thought, behaviour, feeling & sense of well-being. One must take up activities that keep him or her boosted in order to cope with depression. #SwasthaBharat #MentalHealth #LetsTalk pic.twitter.com/UJR3X7GwL2

— Ministry of Health (@MoHFW_INDIA) June 26, 2018

................................ Advertisement ................................
However, the post invited a lot of flak from the followers, especially from the medical fraternity. Some of the responses include:
This tweet trivializes depression and makes it feel like it isn't an illness…

— Dr Milan B (@milantheshrink) June 26, 2018
Kis ganvar ne poster banaya ye? ? Eat fruits? I know persons who think whole day about how to commit suicide in their depressed stage. And woh kela kha ke thik hojayga?? Wtf :/

— Amit Jena (@amitjenareturns) June 27, 2018
The users slammed the tweet for failing to mention that one should seek therapy or clinical help for treating depression.
Please have mental health professionals create posters. I understand you want to help but you're only misguiding people.
Mental health awareness is important and there are enough misconceptions as it is, without the MINISTRY OF HEALTH creating more of them.

– A Psychologist.

— Feminist Sita (@feministsita) June 26, 2018
The only thing missing in this graphic is their recommendation to go see a tantrik baba jo depression karne vaali dusht aatma nikaalta hai

— Flying Sam (@Naa_Cheese) June 28, 2018
Whoever wrote this has no idea what depression is. Where is the part where you go to the therapist or get meds? People are literally suicidal because of depression and you're asking them to "think positive "? You're putting more people in danger by spreading this message

— Rachita (@visualfumble) June 28, 2018
I'm surprised "Gau Seva" didn't make it to this list. Otherwise I think it's the authoritative guide to curing depression. The people behind this poster have won themselves a Nobel Prize in medicine.

— Schrödinger's Indian (@HinduMuslimBoth) June 27, 2018
Sir depression in Doctors for apathy on just demands -safety law, PG stipend nonpayment by private colleges, uniform pay/ facility ,wrong depiction by politician / press, small establishment survival. Needs urgent uttention, can be a gift on Dictors day

— Dr Jeetendra Bhatnag (@bhatnag_dr) June 29, 2018
Such a shame that you @MoHFW_INDIA are insulting those who are suffering from #Depression such an irresponsible tweet without consulting any specialist #proofreading ( psychiatrist , phycologist). It saddens me that who are running such an important department.

— Ankur Pal (@AnkurPa59060441) June 28, 2018
Depression is a manifestation of several biological and psychosocial aberrations, and in some cases, one more than the other. While coping is different from treating depression, everything listed here will aid in healing from within; none of it will still replace #access to MHS.

— C. Ravi Kumar MD., MPH (@Chockalingam_Ra) June 28, 2018
lol, better get some advice from a "Doctor"… who made this? Doctors after doing bridge course?

please also start a bridge course for

Carpenters to Orthopedics

Plumbers to Vascular Surgeons

Electritians to Neurology

Camera mechanics to Ophthalmologists

etc..

— Apple (@_i_P_h_o_n_e_) June 28, 2018
Depression is a low mood, Global Warming is just people getting old and complaining about the weather and the first Transplant surgery in the world was Lord Ganesh being given the head of an elephant. That is what you get when you have an illiterate twit as Prime Minister.

— bipinn (@b_nnay) June 28, 2018
Increase psychiatrists and psychologists and ask ppl to get diagnosed and take meds. Stop talking bullshit. You're our health ministry and not our woo woo ministry . Please talk science ??‍♂️

— G B (@andygarlicy) June 28, 2018
The WHO defines depression as a common mental disorder, characterized by persistent sadness and a loss of interest in activities that you normally enjoy, accompanied by an inability to carry out daily activities, for at least two weeks.
It says that depression is the leading cause of ill health and disability worldwide. More than 300 million people are now living with depression, an increase of more than 18 percent between 2005 and 2015.
In addition, people with depression normally have several of the following: a loss of energy; a change in appetite; sleeping more or less; anxiety; reduced concentration; indecisiveness; restlessness; feelings of worthlessness, guilt, or hopelessness; and thoughts of self-harm or suicide.
Depression is treatable, with talking therapies or antidepressant medication or a combination of these.
In India, the National Mental Health Survey 2015-16 reveals that nearly 15 percent of Indian adults need active intervention for one or more mental health issues and one in 20 Indians suffers from depression. It is estimated that in 2012, India had over 258,000 suicides, with the age-group of 15-49 years being most affected.
Read Also: NIMHANS National Mental Health Survey 2015-2016
Garima joined Medical Dialogues in the year 2017 and is currently working as a Senior Editor. She looks after all the Healthcare news pertaining to Medical Education issues, Medico-legal cases, MCI/DCI decisions, government policies as well as all the news and updates pertaining to Medical and Dental Colleges in India. She is a graduate from Delhi University. She can be contacted at editorial@medicaldialogues.in Contact no. 011-43720751
To know about our editorial team click here
................................ Advertisement ................................
1 comment(s) on Union Health Ministry slammed over Depression post on Twitter