Universal Health Coverage is Priority for Govt: President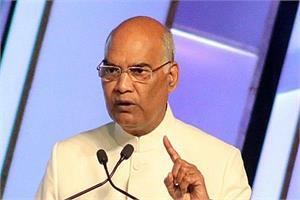 New Delhi
: The Honourable President Ram Nath Kovind has recently stated that universal health coverage was a priority for the government and the rollout of the Ayushman Bharat Yojana was a critical step in this direction.
The Ayushman Bharat Yojna was meant not just for management of public health, but for safeguarding the country's most precious asset – its human capital, he said.
Mr. Kovind was addressing the General Duty Medical Officers (GDMOs) of the 3rd Foundation Training Programme conducted by the National Institute of Health and Family Welfare. The officers called on the President at Rashtrapati Bhawan here.
Expressing happiness over the training programme for personnel of the Central Government Health Services to equip them for multiple roles, he noted that the nation had achieved significant milestones in the health sector. Yet, a combination of old and new challenges had to be tackled.
'The disease burden in our country is undergoing an evolution. We have to tackle widespread diseases such as tuberculosis, malaria and dengue, and at the same time deal with the rising incidence of lifestyle diseases,' he said.
The President pointed out that besides facing challenges of disease burden, the country has to tackle issues of delivery, access to services and affordability.
'The road before all of us is tough but not impossible to navigate. With dedication, drive and determination, we can do it,' he said.
Read Also : Website, helpline number for Ayushman Bharat beneficiaries launched