Universal health coverage key to Sustainable Development: Nadda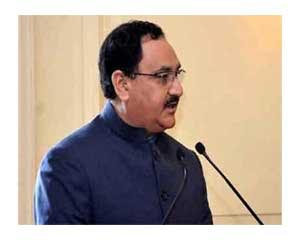 New Delhi: Union Health Minister J P Nadda said that access to medical products and creating an enabling legal and trade environment for public healthcare critical to achieving the Sustainable Development Goals2030 Agenda. The Sustainable Development Goals (SDGs) are a universal call to action to end poverty, protect the planet and ensure that all people enjoy peace and prosperity. The SDGs came into effect in January 2016, and they will continue to guide United Nations Development Policy (UNDP) and funding until 2030.
He also said universal health coverage was key to achieving the SDGs and stressed on continuous engagement and dialogue with other ministries to achieve all public health goals.
"India is deeply committed nationally and globally to achieving all public health goals. Universal health coverage is key to the Sustainable Development Goals 2030 agenda," Nadda said at the inauguration of '2nd World Conference on Access to Medical Products: Achieving the SDGs 2030'
Nadda said that the National Health Policy 2017 is dedicated to the highest possible standards of health for the country. He also mentioned about the launch of the Ayushman Bharat -Pradhan Mantri Jan Arogya Yojna which envisions health insurance of 5 lakh rupees per family per year to over 50 crore poor people.
He said that since its launch on September 23, more than 50,000 people have availed of services under the scheme.
"Access to medical products and creating an enabling legal and trade environment for public health are critical to achieving the Sustainable Development Goals 2030 Agenda.
"These issues require continuous engagement and dialogue. I believe that the Health Ministry with active partnership of other ministries in government will move forward in leaps and bounds" he said.
Nadda further added that India is actively contributing and providing support for the South-East Asia Regulatory Network (SEARN) to guarantee access to high-quality medical products.
Minister of State for Health, Ashwini Choubey highlighted the importance of the traditional medical system in achieving the health goals.
"The diagnosis of modern medicine combined with the treatment modalities of the Ayurveda, Yoga, Homeopathy and other systems of AYUSH will help in giving a holistic approach to treatment," he said.
At the event, Nadda also launched the Information Sharing Platform Gateway for the SEARN developed by Centre for Development of Advanced Computing, which will promote regulatory and health collaboration among the countries of the South-East Asia Region.
State health ministers and principal secretaries from several states in India were also present on the occasion.