2000 Doctors to be Posted in UP Govt Hospitals ASAP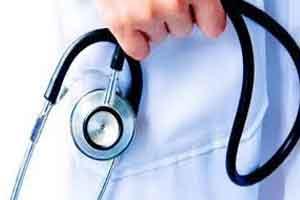 Lucknow: Over 2,000 doctors will be posted at government hospitals Uttar Pradesh in the coming days, a step which comes in the backdrop of criticism over poor health facilities in the state which was rocked by child deaths in Gorakhpur.
UP health minister Siddharth Nath Singh said that posts of 7,328 doctors had been lying vacant for many years and the state government is now expediting the recruitment process to meet the shortage of doctors.
The Uttar Pradesh Public Service Commission has issued the list of 2,065 selected doctors, and they would soon be posted at different government hospitals of the state, according to an official statement.
"No shortage of doctors will be allowed in any hospital. Priority is being given to recruitment of the doctors to ensure that better healthcare is provided and there is no shortage of expert doctors," Singh was quoted as saying in the statement.
The minister said posts of 7,328 doctors had been lying vacant for many years, and there were no recruitment on these posts. This resulted in shortage of doctors in many hospitals.
The current government in order to fill the gap, by establishing better co-ordination with UP Public Service Commission, has tried to expedite the recruitment process, he said.
"The commission took it seriously. As a result, it has issued a list of 2,065 doctors," the minister said.
More than 60 children, mostly infants, had died at the Baba Raghav Das Medical (BRD) College in Gorakhpur within a week in August. There were allegations that the deaths occurred due to disruption in oxygen supply over unpaid bills to the vendor. The state government had vehemently denied it and said the patients had died due to encephalitis, which is endemic in the region.
Medical Dialogues team had earlier reported that with 16 more deaths, including one due to Encephalitis, the death toll in Gorakhpur's now infamous Baba Raghav Das (BRD) Medical College since August has risen to 415.
Read also: 
Gorakhpur tragedy: Death toll touches 415 since Aug at BRD Medical College