Upside Down X-ray Ad: When Twitteraties had fun at the expense of Dr Lal Path Labs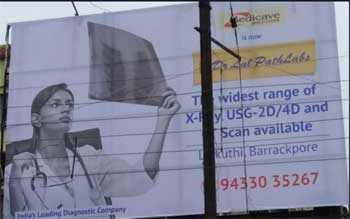 Kolkata: An advertisement hoarding on the street, meant to bring into focus the imaging services provided by the renowned Dr Lal Path Labs has indeed caught the eye of many and become the centre of attention at Twitter. Unfortunately, for the company, this has come as the biggest advertising faux pas, as highlight of the hoarding is an upside down X-ray that the modelled doctor seems to be keenly analysing.
The photo for the advertisement shows a model portraying female doctor deeply analysing an X-ray, along with the caption advertising the range of imaging services of the diagnostic giant- "the widest range of X-ray, USG-2D/4D and CT Scan available".  The advertisement is attractive enough to draw attention, more so when the attention is focused on the upside down X-ray that the supposed doctor is analysing.
Further embarrassment came for the leading diagnostic chain as the massive billboard containing the image was posted in Kolkata. Someone posted its photo on twitter, and thus began a chain of tweets at the expense of Dr Lal Pathlabs, many coming from medical practitioners.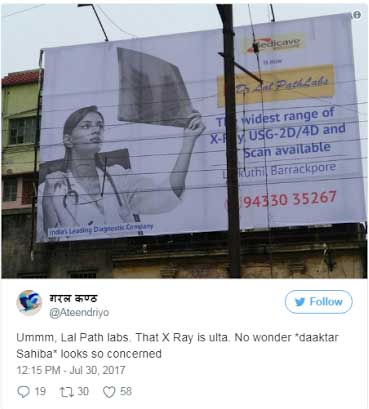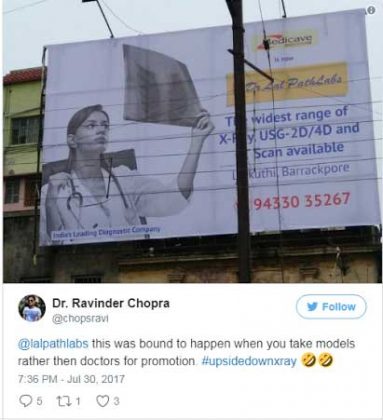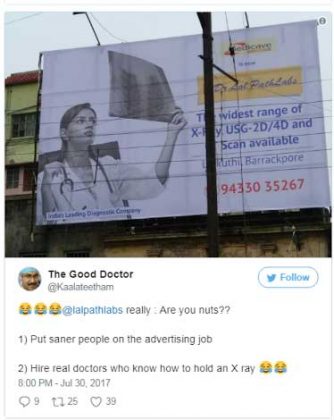 Realizing the gaffe, the company soon came out with the response, gracefully acknowledging the error
"We have noticed this too. We apologize for the inconvenience caused and have removed all such hoardings with immediate effect," they tweeted.