7th pay commission: Saifai Medical University Doctors, Faculty to get paid on par with AIIMS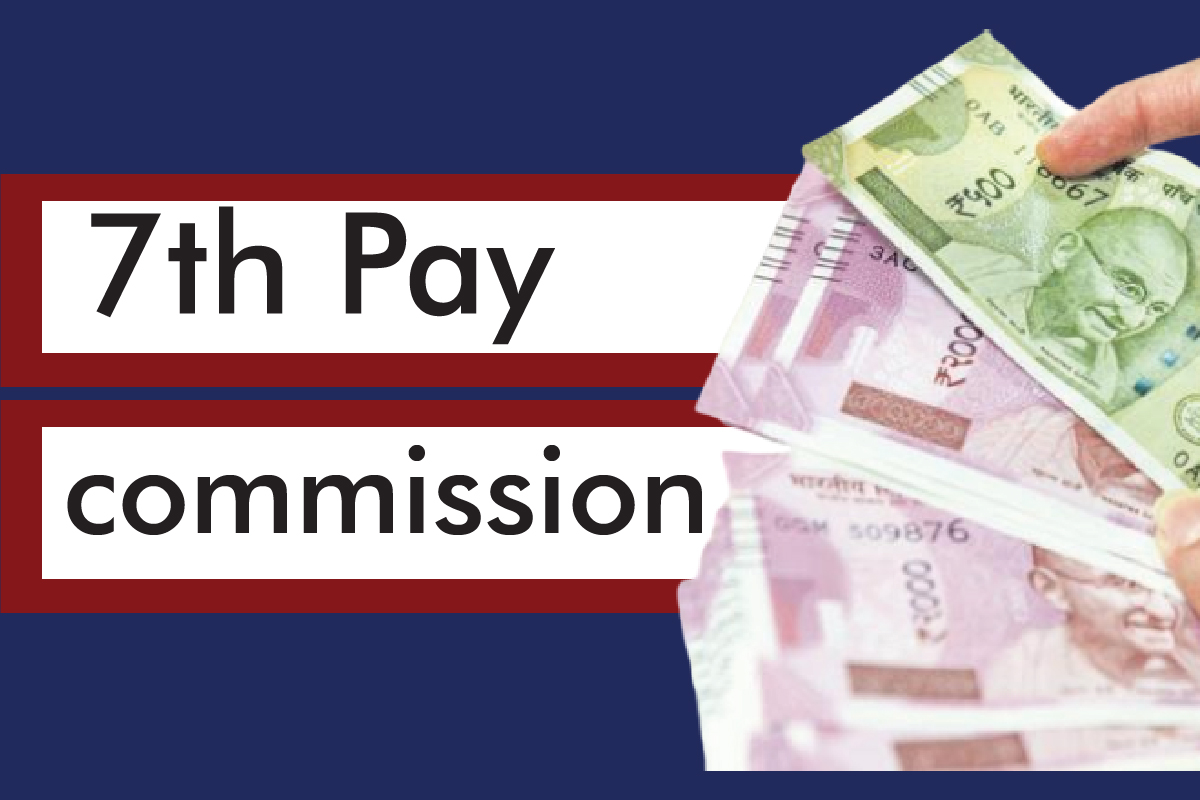 Lucknow: The doctors, faculty members and staff working at the Uttar Pradesh University of Medical Sciences (UPUMS), Saifai have a reason to rejoice as the Uttar Pradesh cabinet has recently decided to upgraded their allowances as per the seventh pay commission in parity with All India Institute of Medical Sciences (AIIMS), New Delhi.
7th pay commission's implementation in the medical institute was a long pending demand of the doctors and employees of these institutions. As per the officials, around 200 doctors, 1200 employees and 250 residents will be benefited with the government's decision and it will put an additional burden of Rs 15 crore per year on state exchequer.
The decision to this effect was taken at a cabinet meeting chaired by UP Chief Minister Yogi Adityanath on September 25th 2019 (Wednesday).
Read Also: 7th Pay Commission: BHU Sri Sunder Lal Hospital doctors strike continues
Informing PTI about the decision, Principal Secretary Medical Education Rajneesh Dubey stated, "There are four medical institutions-- Sanjay Gandhi Post Graduate Institute (SGPGI), Ram Manohar Lohia Institute of Medical Sciences (RML Medical College Lucknow), King George's Medical University (KGMU) and UPUMS, which the government considered on par with AIIMS. While the other three institutions were getting salary and allowances on par with AIIMS, UPUMS too will now get the same benefit."
Attached below is the UP cabinet order: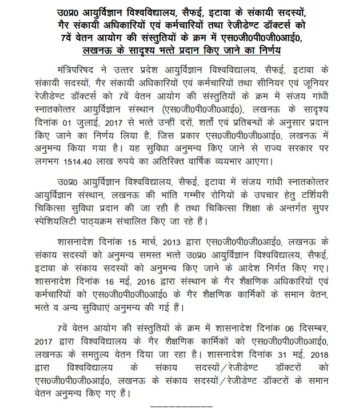 SGPGIMS, KGMU and Dr Ram Manohar Lohia medical institute were granted pay parity in August this year. The information to this effect was announced by the Health Minister Sidharth Nath Singh.
The government had also approved a proposals to hire doctors on contract for filling 718 vacant posts in specialized hospitals in the state, including SGPGI, KGMU, Lohia( all in Lucknow), and in Noida and Saifai.
Earlier in January, the faculty at SGPGI had launched a protest demanding their medical allowances to be upgraded according to the seventh pay commission in parity with AIIMS, New Delhi.
Read Also: 7th Pay commission: SGPGI Faculty demand Equal Allowance, Pay parity with AIIMS