Doctors at KIMS Hospitals Kurnool remove rare adrenal cancer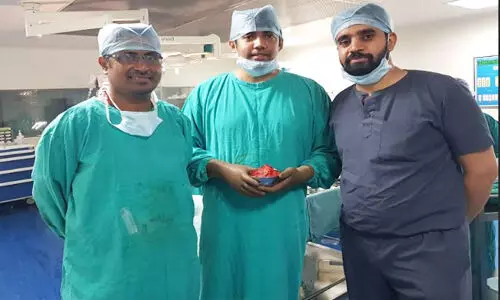 Kurnool- Doctors at the KIMS Hospitals, Kurnool successfully diagnosed a rare adrenal lump and removed cancer by performing a seven-hours long surgery. This lump/cancer is a rare occurrence and the patient is cured of Stage-II cancer through first-of-its-kind surgery in Kurnool district.
A senior citizen aged 60 years was referred to the Urology department at the KIMS Hospitals, Kurnool, with the complaint of an adrenal mass. Though the cases of adrenal mass are common, the mass turning into adrenal cancer is a rare occurrence; and the diagnosis of the same is not easy. With the history of Diabetes and Hypertension along with cardiac problems (post PTCA), the patient was referred to Dr Y. Manoj Kumar, Consultant Urologist, KIMS Hospital, Kurnool.
The patient had a history of bouts of abdominal pain and discomfort for the past one year, and this was being caused due to the tumor sized 8x4 cms. Dr Manoj Kumar, in coordination with an Endocrinologist, ruled out the possibility of it being a functional tumor before going into the surgery. Dr Mohammad Ali Sowdagar, Cardiologist was also consulted considering the age and medical history of the patient.
With the investigations for metabolic analysis resulting in a negative, which suggested a non-functional tumor, Dr. Manoj Kumar and team opted for an open surgery which lasted for up to seven hours as the tumor has densely adhered to other major structures. On conducting biopsy on the tumor, it was identified as adrenocortical carcinoma, a rare disease in which the cancer cells form in the outer layer of the adrenal gland.
Commenting on the diagnosis and the surgery, Dr Y. Manoj Kumar, Consultant Urologist, KIMS Hospitals, Kurnool, said, "This cancer is a rare occurrence and difficult to diagnose. It is a rare disease of the incidence of 0.5-2/ Millions all over the world. This disease can be seen in commonly seen pediatric stage or at an age of 40–50 years and females are more commonly affected. This patient came under the Stage–II Cancer category."
As the histopathology showed high-grade malignancy we referred the patient to omega hospital for radiation. after imaging, the patient has taken up for radiation. he underwent radiotherapy for 6 cycles. after 6 months of the procedure, he underwent PET-CT at Hyderabad to detect any residual malignancy. PET-CT showed the patient is completely free from any residual tumor. The patient is now into his routine work
"We are trying to make a difference in the lives of the common man and the best part of this is saving lives. More importantly, we are also focusing on providing world-class medical facilities to the people of Kurnool. In this case, the diagnosis was possible with the availability of best doctors from all the departments who have a thorough knowledge," added Dr. Y. Manoj Kumar