Early surgery reduces narcotic requirement in patients with kidney stones: Study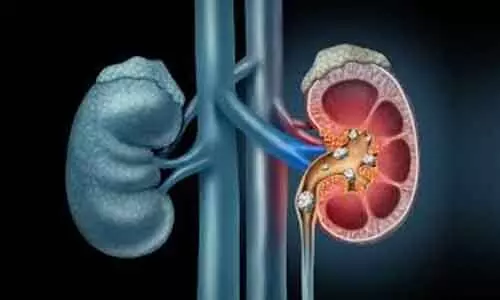 Indianapolis, IN: Patients with renal colic due to stone disease who opt for trial of passage (TOP) versus surgical intervention as an initial treatment are more likely to require narcotic prescriptions, suggests a recent study in the journal Urology.

Lauren Abrams, Indiana University School of Medicine, Department of Urology, Indianapolis, IN, and colleagues evaluated if TOP or initial surgical intervention resulted in less narcotic analgesia utilization in patients with acute renal colic due to stone disease.

For the purpose, the researchers retrospectively evaluated 135 patients with acute renal colic due to nephroureterolithiasis managed by a single surgeon. Patients were offered surgical intervention with ureteroscopy (URS) or TOP. A subset of patients were stented with delayed URS due to presence of pain, infection, or a nonaccommodating ureter. The standard practice is narcotic-free URS, prescribing a stent cocktail including non-steroidal anti-inflammatories. The researchers compared rates of narcotic prescription over the entire treatment course for patients electing TOP vs surgery (primary or delayed URS). Rates of surgical intervention among initial TOP were secondarily analyzed.
In all 135 patients were included with 69 (51.1%) TOP as initial treatment, 39 (28.9%) stent with delayed URS, and 27 (20.0%) primary URS. Thirty-nine (56.5%) TOP patients underwent URS at a median time of 18 days (IQR 6-31 days) from diagnosis.
Key findings of the study include:
More TOP patients required a narcotic prescription (60.9% vs 35.9% vs 33.3%, respectively) compared to patients undergoing initial stent or URS.
When an opioid prescription was provided, the total morphine milligram equivalents prescribed among each group was not statistically significant.
"Our findings demonstrate that patients electing initial treatment with TOP for renal colic due to stone disease were more likely to require narcotic prescriptions than patients electing initial surgical intervention," concluded the authors.
The study, "Early Surgical Intervention for Symptomatic Renal and Ureteral Stones is Associated With Reduced Narcotic Requirement Relative to Trial of Passage," is published in the journal Urology.
DOI: https://www.goldjournal.net/article/S0090-4295(20)31178-X/fulltext
Source : journal Urology